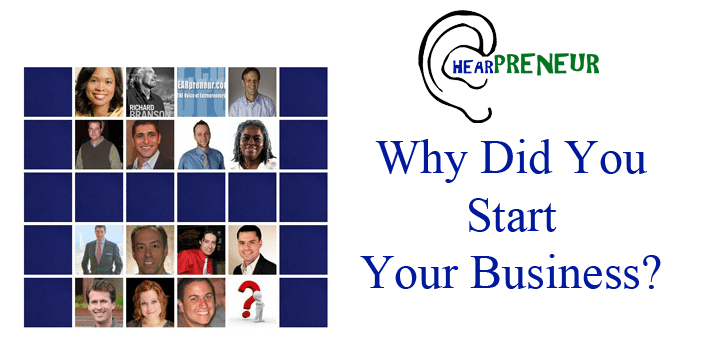 Each business has a story. No matter if the business is a Goliath like Wal-Mart, or a local business owned by a couple or family, the business has roots in an idea. For each business owner, the story of their journey can range from monetary needs or the passion for a unique project. Each story is different though the reasons may remain the same. No matter the tale, the background behind each and every business is what fuels each entrepreneurship and brand.
Like CEO Blog Nation on Facebook! 
Working hard for myself
I used to work doing in house PR for a pet boutique chain in California. I was working really hard and getting burned out, and for what? I needed a change, so I quit and moved to NYC and started my own PR firm, specializing in the pet industry: Whitegate PR. If you are going to hustle and do a really good job making things happen, it might as well be for yourself and your own bottom line!
Thanks to Dana Humphrey, Whitegate PR
Related Post: How to Sleep Better at Night as a CEO
Capitalizing on all I had learned
I started Bates Communications after 20 years in as a television news reporter and anchor because I believed that I had an opportunity to capitalize on all I had learned and build a business that gave my family and I financial freedom and opportunity. My dad was a lawyer and entrepreneur and taught me the value of hard work and believing in yourself. He was a self-made man who epitomized the American dream.. I loved my first career and I feel blessed to have bad the chance to be successful in. Whole new realm. It has challenges me to learn and grow and given me not only financial freedom but the confidence to do almost anything.
Thanks to Suzanne Bates, Bates Communications
A good contractor isn't hard to find
My husband and I moved into our first home and quickly realized how difficult it was to find reliable home improvement contractors. After working a 40+ hour work week, we didn't have time to scour the Yellow Pages for reliable painters, plumbers and electricians. And, we spent several afternoons waiting for contractors who didn't show. I'm a networker by nature and, when we finally found a good contractor, my instinct was to share his name with neighbors, friends and family That was my "Aha!" moment. It occured to me that I could create a business that would save other homeowners the time and aggravation of finding reputable contractors and also help good contractors get more work. I launched my Homeowner Referral Network (HRN) business six months later and, the response from homeowners and contractors has been terrific!
Thanks to Debra M. Cohen, HRN
Creating my own equity
My financial planning and investment advisory business was started in 1984 because I was working for my prior firm late nights, weekends and holidays- like the owners were , but I had no equity. So I decided to create my own since none was coming my way. I was age 28 at the time and figured that I could try it and if I failed , I'd still be young enough to restart if needed. It took MANY years to get to the point where I considered it successful and felt the business was sustainable. Well before that point other peers in the profession were giving me more credit and calling us a success.
Thanks to Tim Shanahan, Compass Capital Corporation
Bringing back the wonder and magic of Christmas
When I was a child, the Christmas ornaments on the tree seemed so big and so sparkly. As I grew up, the ornaments seemed smaller and less special. That's why 20 years ago I decided that I was going to single-handedly bring back the wonder and magic of Christmas. Now my hand-painted ornaments are collected by celebrities and grace Christmas trees around the world! At the end of the day, loving Christmas and really loving what I do makes it easy for me to do something a little special that speaks to the child in all of us.
Thanks to Natalie Sarabella
A strong yearning to make a positive impact on the world
I started my own business because I had a strong yearning to make a positive impact on the world. I was tired of the rat race I found myself in and I wanted, at least while I had the opportunity, to do something that I felt would positively impact humanity. So I did something that went against the grain and started a clothing label where the net profits go to support the fight against human trafficking. Armed with an MBA from the University of Chicago Booth School of Business, my initial path in life was to continue being a management consultant. However, the more time I devoted to this career, the more I realized that my drive and my skills could be better used to change the world. I chose fashion because going this avenue would give me the liberty to pursue one passion to drive another and thus result in a career that I will enjoy for years to come.
Thanks to Efua Mensah-Brown, Proverbs By Efua
Helping organizations harness the power of celebrities
I started Celebrity Concepts and Marketing in 2006, after an exciting career as a movie studio publicist and celebrity talent booker in New York City, for the opportunity to be my own boss. My unique experience, long standing relationships and skill set allows me to fill a specialized niche – booking celebrities for companies and organizations that realize the added value celebrity content can bring to their business strategies. Having over 20 years of public relations experience helps me provide our clients with an added edge when marketing and publicizing their products, campaigns and events – helping them realize their goals more effectively. Celebrity Concepts and Marketing operates as a consultant, we bring so much more to the table than what just one employee can and we provide our clients with the best available options to generate greater brand awareness and relevancy for their projects, at an affordable cost.
Thanks to Wendy Zipes Hunter, Celebrity Concepts
Building to enjoy retirement and help families
Twenty five years as a special education teachers taught that in order to meet the needs of the individual you have to evaluate the effect that others….friends…family have on the individual. With that in mind when I retired I realized that I need to reflect on those around me and their needs before mine could be met. My sister's retirement from the parochial workplace would be minimal at best…she is a saint and well appreciated but poorly paid. My brother is a professional waiter whose ankle are swollen and purple and at 54 how much longer can he stand on his feet. My son is a physical education teacher who waits every year for the ax to fall as we all know how much education is a priority. My best mate is a struggling musician with a massive amount of talent but few connections. So do I ride off into the sunset and travel the world or do I try to help them so that they have options and I can truly enjoy my retirement. So I took what I know and my thirst for helping others and created Hey, You! We are a family/friend based business that creates catchy songs that delineate life skills for children with ADHD. Based on the theory that consistent repetition of a task will help the children internalize the skill and reduce stress in the home. My business, Hey, You!, is going to ensure that my friends and family will have the resources to achieve their dreams. And maybe…just maybe I won't have to stay in hostels when I travel.
Thanks to Dr. Melinda McNeal, Hey, You!
A business out of necessity
I started my business out of necessity. The worldwide mobile computer market is only 14% penetrated, yet growing at an annual rate of 37%. While this creates rapid business opportunities, existing mobile computer accessory brands continue to leave behind the most powerful, profitable consumer on the planet – professional women. Almost all mass-market computer related accessories are either too masculine, athletic, or tacky. There are very few affordable options for stylish, professional women. I decided to take this information and turn it into a business, creating tangible products for women like myself. I developed my own company GRACESHIP, taking the concept of " a laptop purse" and turning it into a stylish and functional bag that any business woman would be proud to carry. Today GRACESHIP is a mobile lifestyle brand exclusively for women. We believe luxury is a lifestyle, not a price point. True luxury is freedom to go as you please in life, and to do it with confidence.
Thanks to Emily Gimmel, GRACESHIP
To help early stage entrepreneurs succeed
I started Content Ramen to help early-stage small businesses and early-stage social media marketers alike. After I launched and failed at my first startup, I changed my focus to building something that would help early stage entrepreneurs succeed. Over time, I had received countless phone calls and emails from salespeople at big firms asking if I needed help marketing my business. Yes, absolutely! But I also didn't have hundreds of dollars per month to spend while trying to get my business off the ground so I couldn't afford their services. Meanwhile, I realized that students, interns, and freelancers couldn't land the marketing jobs that they wanted because they don't have access to real clients to build a portfolio. By connecting early stage content creators with early stage small businesses, Content Ramen helps both parties get the help they need for a chance at a better future.
Thanks to Cynthia Knapic, Content Ramen
Related Post: 18 Reason Why Businesses Fail
Because I hated my boss
I hated my boss, the very sight of him made my stomach hurt. It was so bad I could feel it getting to my health. I remember the day I decided to start my own business…I sat in my office and stared at the walls and then began to feel the tears coming down my face. I prayed and asked God to direct my steps , a month later I had a vision in my dream that I would have a Christian Entertainment Company, and that I would be a strong force in the Christian Entertainment business. I would start with my first publication of my first book and then help others get published and I have two authors currently working with my company. I also have been involved in many events and entertainment with such stars like Yolanda Adams. I really need to "thank him" for being such a jerk.
Thanks to Trinelle Thomas, Nitty Gritty Entertainment
Related Post: How NOT to Motivate Your Employees
To create an organization focused on your strengths
I am a disabled vet with a brain-injury. After 13 years of being on disability & the Ambassador for Easter Seals, I had not found an organization that really focuses on your strengths with an emphasis on getting ready to reenter the work force. So, I started one. DSFDF is a non-profit that concentrates on the full body recovery of traumatic brain-injuries, providing job skills training and job placement assistance.
Thanks to Stanley Jones, Different Strokes For Different Folks
Continuing on the promise of changing companies
I started the company – Emcien Corporation – because I really enjoyed the satisfaction I got from my internship with Delta Airlines. I was working with amazing people on a project that resulted in mind-blowing success, saving Delta $100M. The desire to develop my own team of great thinkers, along with the thrill of helping more companies save millions, inspired my startup. To me, it was so much fun to experience the client reaction after such a challenging assignment, so ultimately I took that inspiration and began Emcien. I wanted the luxury of working with great people, reveling in passion and delivering value every day. Unfortunately corporate America does not allow this kind of lifestyle and people are inundated with meetings and mundane tasks that creep up and fill the day.
Thanks to Radhika Subramanian, Emcien Corp
To fill a gap in the advertising world
I was running my own business and wanted to do large-scale online advertising buys for it. But I didn't want to risk my own money without strong intelligence on where my competitors were already advertising. I was frustrated to learn that there was no tool available that was up to that task, so I created my own as a personal project. When other people heard how well the system worked, they began offering to pay for access. Ironically, the time it took to maintain the system made it difficult to advertise myself. So, quite by accident, WhatRunsWhere was born and became my job. It¹s since been a long road taking WhatRunsWhere to an enterprise-grade competitive intelligence solution, but it¹s been a blast every step of the way.
Thanks to Mike Cojanu, WhatRunsWhere
Related Post: 6 Different Ways to Advertise
To help small businesses that were underserved by traditional solution providers
I knew from an early age that I wanted to be an entrepreneur. With a background in sales and marketing, I started my first business venture in  college and have been exploring new ideas and opportunities ever since. While I knew I wanted to build something of my own, it took the experience, networking and expertise that I gained in the corporate world that eventually pushed me to start ProcessingPoint, Inc. During my experience in the merchant services industry, several associates and I noticed a substantial disconnect when it came to some of the products and services offered to small businesses. Not only did certain traditional solutions fail to fulfill the needs of a small business, but these solutions were also priced based on a large company's requirements. It seemed unfair. There is no one size fits all when it comes to business service solutions, so there shouldn't be a one price fits all either. Products and services should be scalable, affordable and based on a company's size. In addition, they should be flexible enough to fit a company's specific needs. This is exactly the type of tailored solutions ProcessingPoint, Inc. offers. We provide cost-effective business enhancement products and services to small and medium-sized businesses. From cutting-edge, cloud-based time and attendance tracking to the latest in mobile payments technology, we invest heavily in new technology to help save our clients time and money on their mission-critical business tasks. Knowing that our team is helping thousands of small businesses reduce operating costs and continue to do what they are passionate about is huge.
Thanks to Chad Buckmaster, ProcessingPoint
To fill a void in the personalized gift market
I started my company to fill a unique void in the personalized gift market, and share my love of the ocean with the world. I inscribe words thoughts and custom messages into the sandy beach. I capture the picture so it won't wash away. This started 10 years ago as I made a gift for my boss who had everything! I wrote her husband and kiddos names in the sand, framed it, and left it on her desk. Before I knew it I had 10 orders within the office, and Nature's Notebook was born.
Thanks to Courtney Noelle, Nature's Notebook
To make growing a company easier and more enjoyable
Having started four previously bootstrapped companies and worked with dozens of others from shoe string to well financed, I saw a few trends that I wanted to address. I believe creating a sustainable business should be easier and more enjoyable. Let's assume that you know this "IS" your calling and you are doing what you love and create strong value to the marketplace. Typically entrepreneurs get caught up in "doing it all themselves", because then it gets done right and it keeps more money in my pocket. I've found this to be a false assumption and that it actually costs companies a fortune to operate that way. If you focus on your unique talent, your highest revenue generating skill and surround yourself with a competent team that has unique skills in the other areas spells success. That's the premise that I founded DemGen with. It's all about leveraging your time, money and talent, while creating successful and sustainable systems with clarity and focus. Forget the old (and limited) hire staff one at a time model and leverage with the new (and expansive) virtual team model.
Thanks to Gary Evans, DemGen
Related Post: 5 Tips to Reduce Your Workload
To create revolutionary hands-on chess learning experience for kids using Apple's innovative iBooks
For a long time I wanted to write books that teaches kids how to play chess in a language that is simple and easy. After some thought, I realized that the best way to learn chess is by playing. I have always wanted to write books that has the reader actively participating in the learning process. From my own experience when I learnt to play chess at the age of twelve, I saw marked improvements in my academics studies and better concentration and logical thinking. However, the ability to transfer the playing experience into a book has not been possible…until now. With Apples iBooks® 2, I have crafted four "Multi-Touch Chess Kid" chess books designed to emulate the experience of playing chess. Instead of lengthy paragraphs, Multi-touch Chess engages readers with hands-on interactives. These interactives aptly named "Show Me", "Let's Play", and "You Try," allow you to learn, play, and practice chess against a computer AI. Simply touch the iPad® screen to begin. Whereas other chess books discourage beginners with dense text, Multi-touch Chess is written with as few words as possible. My goal is to make chess accessible to all. In fact the first book, "Muliti-Touch Chess Kid Rules of Chess" is free because I want kids to enjoy the beauty of the royal game.
Thanks to Krishan Jhunjhnuwala, Multi-Touch Chess
Creating a little bit of Heaven on earth
Twenty years ago, a young girl names Katie Beers was kidnapped on Long Island. Watching the story on the news unfold just broke me. In that moment, I cried out to God, why can't there be a place for good people? I clearly heard, "That's Heaven," I responded back, why can't there be a "Li'l Bit Of Heaven" here on earth? From that one question came an entire vision for a non-profit, non-denominational place where good prevails and love resides. Since that day, over 100,000+ guests have visited from all over the world!
Thanks to Samantha Tetro, Samantha's "Li'l Bit Of Heaven" Ministries
Bringing a 'Nordstrom's' customer service model to the software world
Previous to opening our company, we worked for years in the technology industry. Even though the world of technology was constantly evolving, in our experience, it lacked a vital component that should be part of any successful business – Customer Service. Working directly with mid-sized specialty retailers, we understood that they needed technology to run their daily operations, but most didn't understand technology. They just expected it to work. Our mission was to offer those businesses the assurance that the right software for their business needs would be installed, that they would be provided thorough and comprehensive training, that technical support would be available to them 24/7 and that every update and Hot Fix from the Developer would be installed to keep them current. We wanted to offer retailers, (who, by the way, are not always computer savvy) a partner that would support them, educate them and advocate for them all along the way. Because customer service is so often void in the technology arena, we wanted to bring a "Nordstrom's" customer service model to the software world. We get it – when people need help, they don't want a voicemail or email message; they want human contact. And at Big Hairy Dog, that is exactly what they get. Is personal and consistently excellent customer service important to businesses? This year we reached our 20th year anniversary milestone. We think it's very important!
Thanks to Mick and Sandy Malaney, Big Hairy Dog
Just trying to keep my babies pants up
This is how it all started, "Mommy, my pants keep falling down!" It was a statement my toddler echoed many times! I was a Mom just trying to keep her babies pants up. I searched high and low for belts, but none of the major outlets were offering belts for little waist, so I did a little research on how to make belts, bought some fabric and started to navigate my way through cutting out patterns and sewing. I spent a lot of time at the store Michaels. It was not to long after my daughter started wearing the belts did I start to get request from parents to make one for their child. It became apparent that I had stumbled onto a real business. Not only did parents want the product, but their was a real void in the marketplace. So, I did my research, created a website and started selling Cute Beltz. It has been the best and happiest time of my life. I have always wanted to be my own boss and I was blessed with the opportunity. Being a Mompreneur seriously ROCKS!
Thanks to Kristen Stevens, Cute Beltz
To help entrepreneurs to get more time to be the visionary and CEO
I migrated to the US in 2010 and wanted to spend time with my 2 year old. I decided not to enter the corporate world but to launch genwilva.com. I wanted to utilize my administrative and business management skills to help entrepreneurs to get more time to engage their clients, increase their revenue and spend more quality time with their family and friends. I provide support in areas such as social media, copywriting, newsletter management, workshop planning, virtual event management and general administrative services to entrepreneurs who are overwhelmed by all the essential administrative tasks that they need to complete in order to have a smooth running business. I want to make sure that all entrepreneurs can ditch the overwhelm and fall in love with their business again. My company has allowed small business owners to have access to the vital administrative support they need so that they can enhance their business success and enjoy their much-needed peace of mind.
Thanks to Genovia Riley, Genwil Business Solutions
To create a better way of delivering consistent, impactful communications
As stewards of our clients' reputations, our mission is clear: articulate compelling messages that are aligned with business strategy, assert control over communications processes and deliver results. But, after many years working in agencies, I saw a disconnect between what agencies deliver and clients' business objectives. I believed there was a better way. With that in mind, I ventured out and started JTS Communications.
Thanks to Juan Thomas Sanchez, JTS Communications
To give loved ones a place to share memories
I created PassedOn (a service dedicated to those wishing to create free, online Emotional Wills, called "eWills," for their Loved Ones in the form of photos, messages, songs and video) with the hope that my children will one day understand what it was like to see them grow up. PassedOn is a private place where you can express your innermost thoughts and wishes with the ones you love. Every now and then I take a few minutes to write down messages and upload files that capture special moments I have with my kids. My goal is to give this to them, in book form, when they turn 18 years old. This is currently enriching my life and will surely have a profound effect on my kids when they can relive their formative years.
Thanks to Marc Oparq, PassedOn
To solve a problem a lot of my friends and I were personally facing
I have always taken a lot of group trips – ski trips, golf trips, backpacking trips, etc. All of these trips inevitably take on a personality of their own: inside jokes, tag lines, songs played on repeat, and of course tons of pictures. The problem is that, most of the time, I'd only ever end up with the handful of pictures I'd taken myself. The rest, the personality, was lost. So when I entered the period of my life when all of my friends started to get married, and now had the additional bachelor parties and destination weddings to attend, the problem was magnified. I decided to build Capsule to be an all-inclusive tool that groups of friends and family, small or large, could use to plan, share, and remember all the details of their group experiences. A "capsule" is a private, shared space that houses all of the photos, posts, and comments that the members contribute. Media can be added instantly to this group album through our mobile apps, email, or the web. I got married myself last fall, and waking up to an album of over 450 photos, that was contributed to by over 80 of our guests, was really an incredible experience. Problem solved!
Thanks to Cyrus Farudi, Capsule