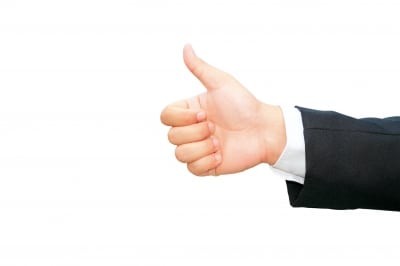 Author John C. Maxwell once said, "A leader is one who knows the way, goes the way, and shows the way." Leaders possess a certain quality which attracts attention. Whether they're standing in front of the boardroom or meeting with employees, leaders are always under scrutiny. It can be a tough role to play even if you're naturally gifted in the area. There are days when your leadership skills feel lacking and you may be grasping at straws on how to approach a certain situation. Even the best leader needs the occasional boost in inspiration or tip on how to proceed. We've rounded up some of the best leadership tips to inspire both business owners and entrepreneurs.
1) Allow Your Team to Fail
When an employee or one of your team members suggests something that you *know* wont work, the temptation is to tell them so, explain all the reasons why it wont work and then tell them no. Here is the problem with that approach, right or wrong, you have just sent the message that you are unwilling to take advice from your team. Worse yet, the lesson you hope your intrepid team members will have learned from your arguments against their pet idea won't be internalized. In my experience, nothing teaches a lesson like experience. That is why, whenever we can afford it, I'll gladly let my team try out new things, even when I'm sure they wont work. Often I'm right and the idea fizzles but in the process my team learns a valuable lesson and at worst we lose a few hours of time. Occasionally, however, I'm proven wrong. I these instances my team gets a morale boosting win, we push the company forward and I have the opportunity to learn something new. Controlled failure can be the best thing to kickstart an otherwise stale organization.
Thanks to Jacob Chapman, ProGrids!
2) Be a Value to Your Community
Be of value to your community. Whether you're a business owner or employed, make sure that you are of value to your community. Make sure that you go the extra mile. Don't just meet the bare minimum. Go over and beyond your expectations. This not only shows your leadership, but also your character.
Thanks to Tiffany Mason, Mason Coaching and Consulting!
3) It's Okay to Show Vulnerability
My tip would be that it's okay to show vulnerability by simply saying to your employees "I don't know." There isn't a reason in the world that you need to anticipate every question that comes at you whether it be from a colleague, partner or customer, and formulate the prefect answer, sometimes you just don't know. I always encourage my peeps to say that they don't know but they'll get back with the answer as soon as they know it. This way they don't lie and they don't dance around just to look like a star and now they'll get 100% of the answer. Check your ego at the door and get the real answer.
Thanks to Janine Popick, VerticalResponse!
4) Always Ask Why
My best leadership advice to entrepreneurs is rally everyone on the term around the central "Why" Why does our company exist? When I was running an organization of that size proved it was daunting, however, creating something bigger than myself was a fulfilling experience. Our company created prosperity for our people and that's why we did what we did. Much of our operating core was comprised of Guatemalan immigrants and these were the finest people I have ever known. Typically, they would come to the United States for several consecutive lawn mowing seasons, saving as much money as they could to improve the lives of their families back home by building homes, ranches, and setting up farms stocked with cattle. This became our company's purpose, our "Why." In weekly meetings, we would get progress reports from our men on how projects "back home" were coming along. In the halls of our office and in the shop we displayed picture collages of all the homes, farms, and business that had been established by our people in Guatemala. Celebrating these victories gave us fuel to get through the tough times, particularly when economic recession that began in 2009.
Thanks to Bryan Clayton, GreenPal!
5) Have a Positive Attitude
The single most effective way I found to leader my company is to have a positive attitude. Having an optimistic attitude is a must have for ever business owner. If you seem discouraged or apathetic, your employees will be affected and be uninspired. Demand from yourself the same positive attitude and dedication that you except from your employees. Always set a good example and your employees will start to emulate these same behaviors. Statistics has shown employees are more productive when they are happy! Don't be afraid to be happy!
Thanks to Lisa Chu, Black N Bianco!
6) Elevate Team Camaraderie
Team camaraderie elevates job satisfaction, company pride and production by promoting teamwork and helping employees understand one another's talents. It's the duty of the CEO to foster a fun and friendly work environment where non-work-related conversation is not only permitted but encouraged. CEOs can jumpstart employee unity by taking everyone on team outings, such as ski trips, wine tours, four-wheeling, boating and hiking. If your company is too large for a single excursion, you could always arrange outings for each department.
Thanks to Simon Slade, SaleHoo!
7) Create a Safety Net
Each person is seeking for recognition, appreciation and approval. Create for your member a "safety net", where they will feel the absence of censorship and illicit criticism. Consequently, they will express themselves courageously and undertake initiatives. At the same time, you should create an environment where your members can offer to you, too. When as a leader you feel that you are the one who continuously offers to them, it is possible that you will grow excessive and unfounded expectations from them.Moreover, it is now known and scientifically proven that emotions are contagious. Emotional intelligence (EQ) has a primary role in our daily lives. So, make a list with the leaders that you consider great and the ones you consider insufficient and then think about how you feel around each category. Virtues that characterize a leader with high EQ are for instance emotional awareness, self confidence, self control, adaptability, empathy, conflict management and team playing spirit.
Thanks to Anastasia Siapka, Code it Like a Girl!
8) Create a Positive Company
Something we hear time and time again– and books for entrepreneurs like "The E-Myth" — make very clear, is how difficult it is for many entrepreneurs to make good leaders, especially when most entrepreneurs become such because they want to dedicate all of their time, passion, and knowledge into doing something they REALLY love to do, but often forget that as they scale, they'll have to lead a team. They'll have to become leaders. That being said, one tip I would share with anyone looking to better their leadership skills is: *Create a positive, open, and joyous company culture– a culture that inspires individuals to take their work seriously, but have a lot of fun during the process.* A positive and relaxed culture offers employees the ability to infuse their ideas within the entirety of the company by inviting and motivating them to comfortably voice their ideas, perspectives and passions. Your employees should be your most valuable assets and you should treat them as such. You are just one person; however, a team of people, with their own creative ideas and skills can open your company to unprecedented growth and opportunities. But that's only if you listen to that team, become an integral part of that team, and celebrate the ideas and accomplishments that come from that team. Lastly, a relaxed and positive company culture allows your employees to feel comfortable speaking to you- about other ways they believe they can contribute, about how they would like to grow professionally *and personally*, about what motivates them and drives them, about how you can help them expand their potential… And with that kind of environment, let's just say, your churn rate will remain exceptionally low. What leader wouldn't want all of that?
Thanks to Daniela Cuevas, The Spark Group!
9) Learn to Say No
Learn to say no. It takes years of wisdom and training to learn to say no. It may seem like a good idea to service that picky customer, drop your price or go beyond their expectations to satisfy but it could ultimately cost your business. Learning to identify key signs of a difficult client or customer and saying no can help create more opportunities for growth. In my early days, I was hungry for work and accepted projects and clients because I needed them more than they needed me. There were cases where I was unable to accept larger paying projects, ultimately costing my business money and growth. Saying no in business is fundamental to growth.
Thanks to Sarah Prgomelja, Floral & Twine!
10) Listen to Others
Listen to others and find creative solutions together with other entrepreneurs who have walked in your shoes. It's not a matter of seeking advice; it's about sharing wisdom so you can build a better, more responsive and stronger organization overall, without relying simply on trial-and-error to guide your business decisions. Shared wisdom gives CEOs an opportunity to address issues they didn't even know they had, and to anticipate other challenges down the road that may sidetrack or, at worst, torpedo their businesses had they not been anticipated. If we as leaders can get away from the 'it's lonely at the top' mentality and start listening to each other – without judgment or ulterior motives – then all of our businesses can benefit from our shared experiences.
Thanks to Michael Miller, The CEO Roundtable!