Building a business can be tough and sometimes entrepreneurs need a strong mission and vision to get through the difficult times. The founders of College HUNKS Hauling Junk, Omar Soliman and Nick Friedman have built a socially conscious franchise that generates revenue but also improves lives. We had the opportunity to speak with Nick Friedman about his business, how it was being on Shark Tank and advice he would give to fellow millennial entrepreneurs.
Tell us your story (What's your background and why did you start your business?)
We started College HUNKS Hauling Junk during summer vacation from college, when my best friend Omar Soliman and I hauled junk using an old beat-up cargo van that we borrowed from his Mom. We wrote a  business plan our Senior year of college and  won the  Rothschild Entrepreneurship Competition, which gave us more confidence in the idea. After a brief stint in the corporate world after college, we quit our jobs and launched the business full time. Our friends and family were skeptical of our decision, but we used that as motivation and drive to become a national franchise brand.  While other junk removal and moving services had poor appearances and were local in presence, we envisioned a fully branded, clean appearance, scalable national franchise.
Tell us about your business
We are a purpose-driven, socially conscious, and values based franchise business that provides national junk removal and moving services with over 100 franchises across US and Canada. Our World headquarters in Tampa, FL, employs over 100 people, including a call center which answers the client calls on behalf of our franchise owners. The business does over $70 million in revenues annually, and has over 1,000 team members around the country. We have been named every year to INC's 5000 Fastest Growing Companies list, and  Entrepreneur's Franchise 500 Award.
How have things evolved since showing up on Shark Tank?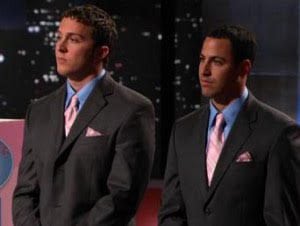 We appeared on the very first episode of the very first season of Shark Tank, so we did not know what to expect going into the experience. We were a very small company at the time, and we reluctantly turned down an offer from one of the Sharks Robert Herjevec. Since the Shark Tank episode, the business has grown exponentially to become a true leader in the moving and junk removal industry, and the franchise industry overall. We have grown to over 100 franchises, and attracted very talented team members who play a vital role in each area of the business. Our brand is recognized for its fun culture and colorful, shiny trucks as well as the trademark of "H.U.N.K.S." which is an acronym for our brand promise that stands for 
Honest Uniformed Nice Knowledgeable Service. 
 We've also appeared on numerous other reality TV shows as a result, including Bravo's Millionaire Matchmaker, HGTV's House Hunters, A&E's The Pitch, and CNBC's BlueCollar Millionaires.  We also recently partnered with Feeding Children Everywhere, and we donate 2
healthy
meals to a hungry child for every completed move or junk haul.
What does being a service entrepreneur mean to you? 
Being a service entrepreneur means taking an industry that is littered with mediocrity and elevating the client experience, the employee experience, and the overall brand and culture. Junk removal has never been viewed as glamorous or revered as a business, and movers are notorious for their unreliability, rudeness and scruffy appearances, which  means that we are able to elevate the industry to unexpected levels and surprise and delight our clients. Our H.U.N.K.S. are always uniformed, clean-cut, polite and professional. Moving is #3 next to death and divorce as the most stressful time in someones' life so we have an opportunity to really WOW them with the experience.  We do just that and have become an iconic brand by doing so. Our net promoter scores and online reviews are higher than those of big, respected brands such as Nordstrom, Southwest Airlines, Costco and Apple. It is important to be purpose-driven as a service entrepreneur, and our purpose is to "Move The World," by providing a positive emotional impact with our team members and clients.
How are you dispelling the myth of millennials?
Millennials are often stigmatized as being impatient, lazy and entitled. Omar and I, as millennial entrepreneurs have had to learn to be extremely patient and open-minded in our business decisions. Expanding to the moving industry after the recession hit and being humble enough to recognize that, with every bump in the road, we need to be able to flexible and be agile while not trying to take shortcuts.  Being involved in the business and inspiring our team members to stay focused on our core values is also a key part of running a successful business. One of our core values is "Building Leaders", and we truly believe that if we can help others be successful, then that will help the organization be successful as well. Work ethic is not dead in this country, and our company is living proof that millennials don't mind getting their hands dirty and working hard… We employ over 1,000 millennials across the country and they are some of the most hard working and inspiring young men and women I have ever encountered!
What advice would you give to aspiring millennial entrepreneurs? 
Be patient, stay humble and stay hungry. Always stay focused on the 5 P's of a successful entrepreneurs: People, Persistence, Patience, Purpose, and Profits.
Where do you see the business in the next 5 years? 
We will grow more in the next five yeas than we did in the first 12. We envision becoming an iconic brand that spans beyond our industry. We see our business as being a major player in not only the local moving and junk removal spaces, but also the long distance moving and storage spaces. Our goal is to be represented by over 250 successful franchisees in the US and Canada doing more than $1 million in revenues per franchise. We will be a household name in the industry, as well as an inspirational launch pad of entrepreneurs and business leaders. We are bringing back the American dream to students and parents.  We want to be synonymous with a Premium Service, a WOW Experience and a Purpose-Driven, Socially Conscious Brand who is committed to charitable causes that resonate with us and our clients.
Anything additional that we should know? 
We are always looking for A-Players to join our journey, either as franchise owners or as team members. Please check out 
College Hunks Franchise
 if you would like to learn more.