Other
26 Entrepreneurs Explain Their Favorite Songs to Get Them Motivated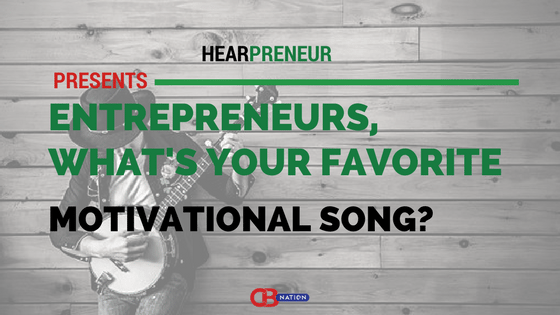 Music can change your spirit. If you're having a bad day and listen to your favorite song, it can change your entire mood. Music can also help you to get through difficult moments in life. One of the hardest things anyone can ever do is start and run a business. We knew that entrepreneurs have the best playlists and we decided to ask them their favourite tracks.
#1-Break on Through to the Other Side
My one go to song, has always been, Break on Through to the Other Side by The Doors. The lyrics of day destroying the night and night dividing the day reminds me of constant change in which, try to run try to hide, is futile in fighting. The break on through is the crossing from one level to the next. I first became attached to this song through training for marathons, of which I've completed quite a number. There Is a level of discomfort as the body fights the rigor of training and then there are distinct break though points. When discouraged I would play this song in my head.
Thanks to Doug Seville, DSML Executive Search!
---
#2- Born to Run
As the Co-Director of the Grant Park Academy of the Arts, it's easy to get overwhelmed.  I do turn to music to get myself back in gear.  One of the songs that makes me the happiest is Bruce Springsteen's Born to Run. Maybe it's the idea of driving.  Maybe it's the character who's trying to convince his girl that he can do it no matter what happens. Maybe it's the pump of the music. Whatever the case, I know when I put that thing on it's going to help!
Thanks to Adam Cole, Grant Park Academy!
---
#3- Bodak Yellow
I've been an entrepreneur for a little over three years now, and Cardi Bs' Bodak Yellow is most definitely my motivational Jam. Whether I need to get ready to start the day or before a big meeting. The beat pumps me up, and the message is clear. Always make power moves and have a tireless work ethic.
Thanks to Wagner Saucedo, Teqroom!
---
#4- Two songs
As an international speaker, fear strategist, author, molecular geneticist and CEO of Navigate2Empower, I have two songs. To get the room engaged either as a company for training or an empowerment workshop, "Happy" by Pharell is a great tune. People just start clapping and dancing and usually get out of their seats. For women empowerment workshop's as a speaker, Idina Menzel's "Queen of Swords," is a great, powerful song as well as Rachel Platten's "Fight Song." I like to choose songs that have good, positive messaging, but also presses the reset button and energizes the group.
Thanks to Robin Joy Meyers, Navigate2Empower!
---
#5- Rocky Theme
The best song in existence is the Rocky Theme Song. This is just common knowledge. For any task that you may feel too small, unimportant you put this song and immediately you become the strongest and a capable human being. Especially for those who rise from below, those who didn't have anything, this is our anthem.
Thanks to Alberto Navarrete, Frisco Maids!
---
#6-Happy and Brave
As a business owner, the first song that really motivates me to keep pushing through all the ups and down is by Pharrell Williams called Happy. This song always gets me super excited when I listen to it and inspires me to finish all my daily business work. The second song that really motivates me in my business is by Sara Bareilles called Brave. This song reminds me to show my outgoing personality in my business and to motivate others to do the same.
Thanks to Latasha Peterson, Arts and Budgets!
---
#7-Take It Easy
As the owner of both an online bookstore and a social media & marketing blog, I spend a lot of time working by myself. I listen to music all the time to keep me motivated, whether I'm packaging orders or writing a blog post. Whenever I'm feeling overwhelmed by my insane to-do list, I blast Take It Easy by The Eagles. It reminds me to focus on one thing at a time, and my worries fade away.
Thanks to Taylor Mack, Small Biz Refined!
---
#8-Broadway musical
I am, and always have been, a great big Broadway musical fan. So any upbeat song from a Broadway show really gets me going. Some examples: "Tomorrow" (The Sun Will Come Out Tomorrow) from Annie. "I Whistle a Happy Tune" from The King and I. "Put on a Happy Face" from Bye Bye Birdie. And although it is not an "up" tune, "You'll Never Walk Alone" from Carousel, has helped me get through many a down day.
Thanks to Allen Klein, aka Mr. Jollytologst®
---
#9- Self Made
For CEO's and business owners there really is no better pump-up song to get your day started with an aggressive beat and motivating lyrics. Having someone take a true entrepreneur mindset and develop the thoughts into lyrics that motivate people to chase after their dreams is pretty impressive. B-Ho and Cam have even managed to release a new song every weekfor the last 100 weeks and each one is copyright free with no licensing fees. These guys have multiple songs that business owners will love, but Self Made is the track that wakes me up every morning (literally).
Thanks to Bill Gore, IntelliSys Solutions Group!
---
#10- Can't Touch This
One song that always makes me pumped and get in the groove is "Can't Touch This" by MC Hammer. It's an iconic song for a reason. Every time turn it on my energy is elevated and I'm ready to work. It also helps me stay confident and deflect any negativity that comes up in the online space.
Thanks to McKinzie Bean, Mom Makes Cents!
---
#11- Go All Night – Gorgon City featuring Jennifer Hudson
This song is from the last few years but this is definitely a winner from Gorgon City. Jennifer Hudson's vocals are soulful, uplifting and get me in the mood to handle virtually any task. The lyrics are inspiring and sometimes it gets my creative juices flowing thinking of different possible versions of the way this track could be produced. Definitely a great track!
Thanks to Joe DiRosa, BerksLuxury.com!
---
#12- Harder, Better, Faster
One of the songs that motivate me and get me going is Daft Punk's Harder, Better, Faster outside the lyrics going straight to the point: "Work it harder, make it better, do it faster, makes us stronger;" it reminds me to work smarter and make decisions that not only will make me stronger as a leader in my field but to pave the way to make it better for the future leaders of our generation.
Thanks to Jazmine Valencia, JV Agency!
---
#13- I Got The Power
As the CEO of 3 businesses that support, inspires and empower autism, unexpected overwhelm and stress can occur at any time of the day! When this occurs it can feel like all of the life inside of me is zapped and I then feel tired and time to call it quits, for the day. Until I hear base and instrumental high paced rhythm that makes me physically want to move again. Followed with the 4 simple words " I Got the Power", by Snap, that ignites
my day and gets me pumped, motivated and back on powerful flow. This is definitely a song to keep you going, especially when you want to give up.
Thanks to Dr. Alisha "Ali" Griffith
---
#14- Living on a prayer
I have a personal favorite song that I have to listen to literally everyday before I get my work started, and the title of the song is called living on a prayer by Bon Jovi. Being the owner of a company he says something in the chorus of the song that I strongly identify with and thats take my hand, we'll make it I swear and that motivates me because I have people counting on me and the company to do well.
Thanks to Chris Waits, WeBuyFtWorth!
---
#15- Turn Down For What
There's only one song to get you and your team motivated when its crunch time. 'Turn Down For What' by DJ Snake and Lil Jon isn't exactly about closing a business deal but it's just what you need to put you in the zone. When you've completed all your deadlines to this tune, you can line up another round of shots. Sometimes, when you're in the zone music has got what it takes to get you motivated, increase your endurance, and improve your overall performance. What better song than one that will get you pumped up and raring to go. 'Turn Down For What' always makes me feel like I've got a coach yelling in my ear, the backbeat providing what feels like a cheerleading squad. I find myself zoning in, working faster and more effectively than I was ten minutes ago.
Thanks to Nate Masterson, Maple Holistics!
---
#16- Moneyball soundtrack
What's always kept me motivated especially when at critical stages of the building business is the score to the Moneyball soundtrack. I've built my business from the ground up and there were/are many times where you relate to what Billy Beane went through in the 2002 season. For me, it's taking advantage of the opportunity in front of you building something. Building a business is a grind (one song is titled it's a process) and sometimes you have to dig in and push through. That's when I dial it up on Spotify.
Thanks to John Sammon, Sixth City Marketing!
---
#17- Try Again
Try Again by Aaliyah is one of those motivational songs which will help you keep going in life no matter what. It helps in uplighting the mood and confidence in horrible situations where you have been disappointed or failed hard. My favorite part of the song is: If at first you don't succeed (first you don't succeed) / Dust yourself off, and try again.
Thanks to Shafi Khan, Optiux Marketing!
---
#18- Sia's song Flames
My first year in business as a Marketing Consultant has been an utter whirlwind. Juggling a new business with a young family, as any parent will tell you, is no mean feat and has it's ups and downs. I will never forget when I first heard Sia's song Flames. My client base had grown lot quicker than I had anticipated and I was feeling overwhelmed and insecure. I was driving back from the school run ready to start my day. I had the radio on and I heard: 'Figure it out, figure it out, you can do this'! From then on it became my official freelance anthem. I have been lucky enough to have an incredibly successful first year in business, whilst watching my children flourish. I don't know what 2019 holds for me, but I know what song I'll be popping on when I next need a motivational lift up.
Thanks to Lucy Hoad 
---
#19- Fireball and Spotify playlists
I have a guilty Pitbull pleasure! LOL I love the song Fireball and always use it to get me started with a dance party in the mornings! Also, I have a few Spotify playlists I listen to and send out to Perky Perky customers who need to be reminded of their amazingness. I listen to this playlist often to keep me in vibing high throughout the day!
Thanks to Maruxa Murphy, PerkPerky!
---
#20-RX Bandits – Overcome (The Recapitulation)
While I have many songs I listen to in order to pump me up, this one definitely takes the cake. There's something about that mix of raw emotion and being fed up with the system that helps jolt me into action. It helps reinforce the ideas that we're all people and helps me not to forget that. My favorite part would have to be:  I'm not buying, no I'm not giving in, to a culture that objectifies all of our women ♪ ♪ I'm not buying, no I'm not giving in, to the lies that are sold through textbooks to children.♪
Thanks to Ben Currier, Learn Excel Online!
---
#21- Hall of Fame by The Script and will.ia.m
I love this song because it reminds me that I can do anything I set my mind to and be successful if I work hard and dedicate myself. It inspires me to keep trying and keep grinding, even when the going gets tough, because someday it will all pay off! Tiptoe by Imagine Dragons. I like to listen to this song whenever I'm feeling disregarded or underestimated. It reminds me that even if others don't recognize me or what I can do yet, if I put my head down and work rather than getting discouraged and giving up, one day I'm going to catch them off guard when they see me at the top.
Thanks to  Sarah Hancock, BestCompany.com!
---
#22-Eye of the Tiger
I know. It's cliche. It's cheesy. It's also awesome and inspirational. Read the lyrics. It also embodies what every entrepreneur deals with. Adversity. Dealing with challenges. Finding the will to keep fighting. Keeping your vision instead of settling for the easy way out. If you've ever owned a business and can't identify with those ideas, I don't  believe you.
Thanks to Shaan Patel, Prep Expert!
---
#23- Build a Stage by Bronze Radio Return
Some songs capture your situation and captivate your imagination. For me, Build a Stage by Bronze Radio Return does both. The same way that the song builds in rhythm and pace, the lyrics build in story and intrigue. The song starts with simple piano chords and adds beats and complexity as the story unfolds of a man that puts his hammer to nails and planks to build a stage. Soon, another man looking to build joins him and as it gets taller and taller, the crowds join to help in perfect symphony to finish the stage built from "thousands of pieces." The parallels to entrepreneurship trigger my emotion as I reflect on building our own stage that started with just one person and now is a team of ten. Momentum grows with the passion and vision of an entrepreneur and people desire to be part of something bigger than themselves.
Thanks to Ryan Roff, boldSOCKS!
---
#24- Chicago's Feeling Stronger Every Day
Chicago's Feeling Stronger Every Day…because I'm a firm believer that as an individual, a company, and a brand, you always should believe that with every passing day, you are better and stronger than you were the day before. Taking a step in the other direction cannot be an acceptable option!
Thanks to Don Fox, Firehouse Subs!
---
#25- Come Alive from The Greatest Showman
Whenever I'm working on my business and find myself trapped doing tasks that I don't particularly enjoy, I turn to Come Alive from The Greatest Showman soundtrack for motivation. It's upbeat, positive, and always a great reminder of why I'm doing what I'm doing. The song acts on more than one level: it boosts your energy with the catchy rhythm and commands your attention with the lyrics (to which any entrepreneur can relate).
Thanks to  Georgie Mihaila, Fancy Pants Homes!
---
#26-Superstar by Luther Vandross
Even though it is a slow song it always makes me happy and motivated because he has such an amazing voice and took a great song by the Carpenters and made it even better. It reminds me of the quote I picked for my high school yearbook  when you can do the common things of life in an uncommon way, you will command the attention of the world. Many people recorded that song but his was the best I think, it was authentically him which made it so great and very special. It is motivating and a nice reminder as an entrepreneur to play your own game and just do what you can do better than anyone else to leave your mark on the world.
Thanks to Paige Arnof-Fenn, Mavens & Moguls!
---
What's your favorite song to keep you motivated? Tell us in the comments below. Don't forget to join our #IamCEO Community