Entrepreneur
6 Entrepreneurs Reveal The Industries That Are Ripe For Disruption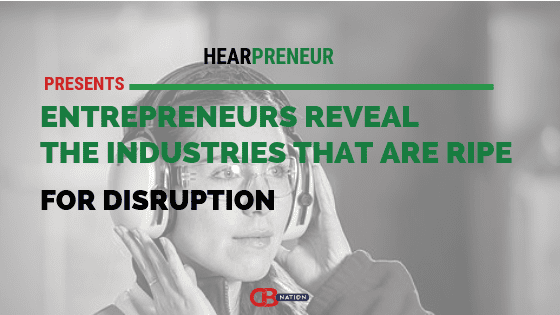 Is your industry ready for a change? The decision on which industry one should venture in is often determined by factors such as advancement in technology and availability of capital. The prevailing trends may favor some industry while others prove to be more profitable over time.
We asked entrepreneurs and business owners about the industries that are ripe for disruption and here are the response;
#1- Real Estate
The traditional real estate model has remained mostly unchanged for decades, with typical commissions holding steady right around 6%. The industry if flooded with so many agents and brokerages who waste ample time competing with each other to snag clients while draining productivity. The traditional real estate model is missing out on the changing consumer market and is quickly losing its ability to provide efficient and relevant results as it clings to old paradigms. The vast majority of agents and brokerages are peddling essentially the same services at the same non-competitive commissions. In most industries, as technology and automation streamline processes, margins contract. I believe this narrowing of margins in the real estate industry is inevitable and that the industry is ripe for change.
Thanks to Cassie Nichols, Origen Realty!
---
#2- Home security
One industry that is ripe for disruption is starting to see the beginnings of it. Home security is ready to be completely turned on its head. Home security has been served by companies that come in and install a camera and a few sensors. They then charge a monthly fee to monitor your house. Other companies have come in with other options but none have truly dominated. Cable companies now package security into their bundles and DIY options have sprung up. What we are going to see next are companies that will come in and offer complete smart home automation services with security included. The company that offers a cheap alternative with extremely transparent pricing will completely dominate the market.
Thanks to Will Ellis, Privacy Australia!
---
#3- Education
Education is an industry that's ripe for disruption. Most agree—even across political aisles—that our current educational system is in need of critical reform. It hasn't kept pace with global competition. U.S. literacy rates trail many developed countries including Singapore, China, Japan, and Korea. Advances in science, technology, and engineering can be so swift nowadays (and unexpected) that they render curriculum, textbooks, and even language obsolete overnight. Some of this is relatively new to education which has been free from the press of swift competition, despite the occasional "battle royal" mid-ring between, say, for-profit and non-profit colleges or public- versus charter schools. For the most part, education is as it was. In my opinion, this is why education is ripe for disruption—markets are disrupted when new entrants figure out an innovative way to provide a simpler product to a wider set of buyers at a more affordable price, similar to how Clayton Christensen (the godfather of "disruptive innovations") coined the phrase. Education, especially higher education, is ripe for disruptive innovations that increase access, cut costs, and revolutionize delivery. This is why "new entrants" like Massive Open Online Courses (MOOCs) are so popular and why Coursera and Udacity are increasingly cornering that market so to speak. It's why every education conference now has sessions and keynotes on predictive data analytics, badges, and stackable credentials. It's what consumers want to hear! Buyers (students and families) are getting smarter and looking for more immediate return(s) on their investment (ROI)—good quality, greater access, lower costs, and higher gains. Education is an industry ripe for disruption, but gentle reminder to investors and providers: as a human service business those disruptions must blend high-touch contact with personalized, good customer service. No pressure!
Thanks to Terrell L. Strayhorn, PhD, Do Good Work LLC!
---
#4- Automotive
The global automotive industry is going through an enormous disruption these days. Technologies in the automotive industry have been evolving really fast. The global automakers and suppliers will be adapting their business models accordingly, forming new partnerships and investing in new technologies. Over the next 20 years, autonomous driving, electric vehicles, and connectivity will transform our lives beyond recognition.
Thanks to Anna Ozdelen, Consul People!
---
#5- Agriculture
Especially suitable for your choice of the word ripe, agriculture is currently undergoing a massive shift. There is no doubt that technology has impacted it in a large way over the past two decades, and will continue to do so. What's around the corner, in my mind, is a new industry around carbon farming. I've volunteered and worked in non-profits in multiple countries, on projects ranging from an organic olive oil operation in western Turkey to a permaculture demonstration site in the West Bank of Palestine to a reforestation project in the mountains of western Guatemala. In all that time, it never occurred to me that business would help chip away at the carbon and other greenhouse gases-caused climate crisis we may well be on the verge of experiencing. Yet, here comes agriculture, already under the transforming influence of technological innovation, and rapidly gaining widespread attention among VCs and other investors. I may have been naive to the fact that small-scale non-profit work wasn't a likely candidate to effect long-term change. However, I'm now almost certain business can disrupt the agricultural industry so thoroughly that it may be leveraged to mitigate climate change.
Thanks to Gregory Heilers
---
#6- Healthcare & Insurance
Technology has disrupted so many parts of our lives already (Transportation – taxis/Uber/self driving cars, Entertainment ­ Netflix, Spotify, streaming, etc) and the world is changing everyday but the industries I think will change the most in the near future are Healthcare & Insurance. With the election next year it does not matter which party wins it is clear that the current system is broken and it will be disrupted sooner vs later. I do not see eliminating private insurance or having Medicare For All as the only options so there is plenty of room for new entrants and opportunity for innovation here.
Thanks to Paige Arnof-Fenn, Mavens & Moguls!
---
What industries are ripe for disruption? Tell us in the comments below. Don't forget to join our #IamCEO Community.