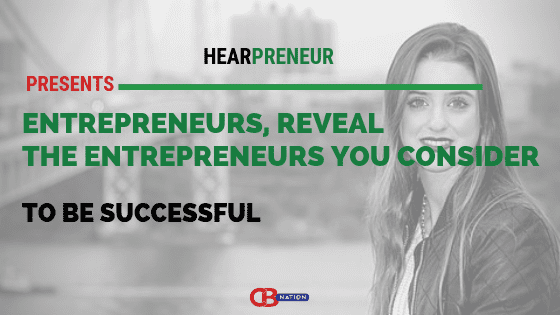 In our societies and business, there're entrepreneus who have demonstrated exceptionalities personalities and demeanour to pull it through business.
Some of them alive and who continue to do great things while others we only read about them.
Here're the entrepreneurs business owners and other entrepreneurs consider to be successful.
#1- Kelly Cutrone
I consider Kelly Cutrone to be someone I look up to, and a huge success in the PR/Fashion/Event Planning industry. She's tough, and she built her path from scratch. She's unapologetically herself, and–not to mention–she's extremely smart and talented.
Thanks to Beth Lawrence
---
#2- Warren Buffett
As an attorney one would think we are not also entrepreneurs, but starting and running a successful law firm for over 27 years has helped me understand what it means to be an entrepreneur. I believe Warren Buffett is one of the best entrepreneurs I have ever studied, and I certainly don't think I am alone in this belief. He is conservative with his money and does not spend more than he has. Warren has noted that he was taught at an early age to be content with moderate gains. Again, get rich quick scenarios are few and far between. Warren also notes that great investing requires a lot of delayed satisfaction. This is so true, and still comes back to the basic premise that one must be patient and frugal (different than cheap) while building a business. Remember that hard work, patience, and putting yourself in a position to be lucky are the keys to becoming a successful entrepreneur, and these are lessons I have picked up over the years with my own business, and from what Warren Buffet has said of his own experiences.
Thanks to Frederick Penney, Penney & Associates!
---
#3-Richard Branson
I consider Richard Branson to be a successful entrepreneur in the tourism world. He is a very positive person, is always coming up with the newest and greatest, and is able to single-handedly manage several different businesses with several thousand people. In addition, he always is in the know as to what the younger generations are in to and what is trending, or he is the one creating the trends.
Thanks to Georgette Blau, On Location Tours!
---
#4- John Lee Dumas
In my opinion, one of the most successful entrepreneurs in the podcast and speaking industry is John Lee Dumas. John Lee Dumas is the founder of Entrepreneurs on Fire, a podcasts that have featured special guests like Anthony Robbins, Tim Ferris, Jason Kantzenbach, Noah Kagan, and many more. In one of his recent monthly income reports, he generated over $300,000 in revenue from affiliate marketing, sales of his Freedom Journal, sales from his courses, and sponsorships. He started down his podcast journey back in 2011 and have created a 8-figure business in 8 years. In addition to his podcast, he has been a speaker at various conferences throughout the United States and has created a community known as Fire Nation.
Thanks to Elandas Miller, Kicking It Sports!
---
#5- Michael J. Swanson
One entrepreneur who I admire has built a tremendously successful business is Michael J. Swanson. Mike is the President and a founder of Advocate Capital, Inc. Advocate Capital lends money to plaintiff attorneys to cover case expenses incurred during the investigation, discovery and litigation of their cases. Litigation finance has become a very competitive field, and a number of companies have jumped on the bandwagon. Advocate Capital has been in the business for 20 years and throughout that time has maintained extremely high standards. Only well-run law firms qualify for their program. But what makes it unique is their Advotrac program which is unlike any other in the industry. It allows plaintiff attorneys to draw funds for case expenses as they arise and only pay interest on the loaned amounts from the date of each advance. This keeps the interest costs to the absolute minimum, which benefits both the law firm and the client. Advocate Capital has been incredibly successful with steady year-over-year growth. I attribute that success to Mike Swanson's meticulous attention to detail while maintaining his focus on the company's goals throughout.
Thanks to Dan Goldstein, Page 1 Solutions, LLC!
---
#6- Seth Godin
For me, Seth Godin is the gold standard. He has a great story to tell and has created a strong platform that ties together his writing, speaking, and social media in a way that consistently builds his brand. He speaks in plain English and uses real world examples from his experience so everyone can understand and learn from his very practical advice. He is smart, authentic and funny.
Thanks to Paige Arnof-Fenn, Mavens & Moguls!
---
#7-Tim Ferriss
To me, Tim Ferriss is someone I consider to be deeply successful. His principals of lifestyle design, building the life you want and then the business to support that lifestyle is true success. The systems he's created for remote living, working from anywhere, and the teachings he's shared with so many other entrepreneurs so personifies success in my book. Recognizing the day and age we're in and that retirement doesn't have to be only when you're over 60, but learning to embrace and create mini-retirements throughout your year to enjoy and experience the very reasons you work so hard as an entrepreneur I think is success personified. Getting clear on exactly what you want to be experiencing in life – not only professionally, but personally, and then cutting the fat, and making a bee-line to make that happen.
Thanks to Shelby Ring, Ruby Riot Creatives!
---
#8-Richard Branson
Someone who makes other lives better Business is not just about making money but bringing positive changes in other's lives also matters. An entrepreneur with a passion to offer convenience always enjoys good sales, people's love, and respect. Richard Branson, a recognized billionaire once said – If you can change people's lives, you have a business. Means, if your product or service solves your customer's daily problems, you will have a good long-term business.
Thanks to Syed Ali Hasan, Film Jackets!
---
#9- My dad
Success is a hard thing to gauge. People can succeed financially with a business and yet fail as human beings. As an entrepreneur, my dad, Donald W. Baumgartner, set the bar very high with a remarkable legacy. Over 65 years, his company, Paper Machinery Corporation (PMC), has been not just an industry leader but responsible for supplying over 90% of the world's paper drinking cups off their machines — Starbucks, McDonalds, all of them. In the 1950s, he made a conscious decision to eschew plastics in favor of paper long before people knew about the environmental danger posed by plastics. This would earn him an honorary doctorate from Northland College for his service to the environment. In 2016, he did something almost unprecedented. At the age of 85, he walked away from over $100 million dollars to turn over the ownership of his company to his very surprised and delighted employees. He did this because wanted the people whom he credited for his success to achieve their financial dreams too. PMC has line mechanics who became millionaires thanks to this decision. My dad succeeded on two levels: financially and as a human being, proving to be a remarkable inspiration not just for me but, hopefully, all entrepreneurs.
Thanks to E. Keller Fitzsimmons, E. Keller Fitzsimmons!
---
#10-Gary Vaynerchuck
I've always been fascinated with the work of Gary Vaynerchuck. I consider him successful because he's managed to change hundreds if not thousands of people's lives (including me) with his value-packed and commanding advice.
Thanks to Adnan Rehan, SmartHustleIncome.com!
---
#11-Oprah Winfrey
Oprah Winfrey is a success story when it comes to being an entrepreneur. A victim of sexual assault at age 9 who became pregnant at age 14 though the baby was lost during birth. Her determination and courage aided her to land her first television show in 1983. Since then she has grown from strength to strength.She became a force to reckon with when it comes to new media in America and beyond when she founded her multimedia company Harpo Studios in1988. The company has grown over the years through ad revenues and many other revenue streams with over 12,500 employees.
Thanks to Chuks Chukwuemeka, DepreneurDigest!
---
What entrepreneur do you consider to be successful? Why? Tell us in the comments below. Don't forget to join our #IamCEO Community.