Inspiration
14 Entrepreneurs Describe The BHAGs (Big Hairy Audacious Goals) For Their Business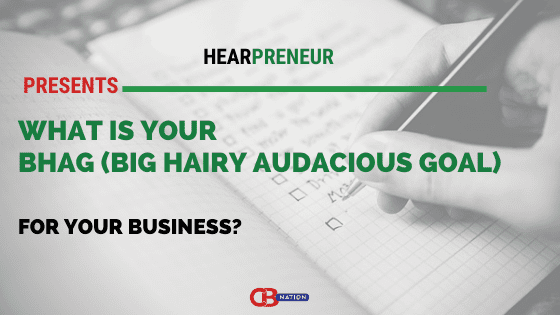 Have a goal that's third parties think is impossible? Often entrepreneurs and business owners create their daily, weekly, quartely or yearly goals around their business. It could be more revenue, hiring clients or launching a new product or service, where setting goals presents a fresh opportunity to achieve different objectives. Some of the goals may sound unrealistic or unachievable to someone but if you and your team believe in it, there's no reason why you should not to go for it.
We asked entrepreneurs to share their BHAG (Big Hairy Audacious Goal) and here are the insightful responses.
#1- Bring world-class marketing communications
My BHAG is to bring world-class marketing communications to worthy organizations irrespective of budget. I want to help the best brands around the world find their voice so that their target audience can find them quickly when in need of their products or services.
Thanks to Paige Arnof-Fenn, Mavens & Moguls!
---
#2- Sell 10,000 planners
We sell planners that help people set and track their goals. I launched the business just a couple of months ago (July 15th) with great success. We have sold over 1000 planners in our first 60 days. Although, my BHAG is to sell 10,000 planners to help people put their goals in writing by February 1st of 2020. So over the next 4 months, I have a little under 9000 more planners to sell!
Thanks to Jason VanDevere, GoalCrazyPlanners.com!
---
#3- Be the #1 online resource
At Safeopedia our Big Hairy Audacious Goal is to be the Number 1 Online Resource for the Environmental Health & Safety Industry. We don't follow the invented here model. Instead, we aim to methodically harness the collective genius of the industry. We believe in collaborating with industry leaders, working with innovative companies and directly engaging with our community and audience to ensure we are building out valuable resources they can use daily to improve health & safety within their respective companies. By working with a robust content advisory board made up of EHS professionals from around the world, a product advisory board  composed of some of the leading global manufactures in the industry, and launching an EHS Thought Leadership Committee, we aim to become a robust environmental health and safety ecosystem, and a key resource for those in the industry.
Thanks to Scott Cuthbert, Safeopedia.com!
---
#4- Reduce churn rate by half
My big hairy audacious goal for my business by the end of this year is to reduce our churn rate by half. As a SaaS company, we have had pretty good success in acquiring new customers for our business using various techniques: organic traffic, paid ads, email marketing, etc. One piece of the puzzle that we have yet to solve is how to reduce churn. This is one of the biggest problems in SaaS – churn is essentially the number of customers you lose every month because they cancel their subscription. To solve this problem, we are working on new email marketing campaigns, Facebook retargeting, paid ads and other methods. Essentially, our aim is to remind users who subscribed to Better Proposals why the product is great and how it benefits them.
Thanks to Adam Hempenstall, Better Proposals!
---
#5- One day focus on the achievable
Having a BHAG is a great an old idea rooted in business and life that is static, Either the goal is so generic that planning to achieve it is merely a vision boarding exercises or it is so narrow that becomes ignorant of the changes that world offers us every day. Winning in today's business is not based on the BHAG that you may dream of, but your ability to achieve little goals in an incremental manner and shift and evolve as necessary in order to keep up with the changes around us and tilt the probability in your favor.MY BHAG is one day be able to truly focus on what is ahead and its achievability and aim to change my goals always to stay relevant to my customers, employees, market, partners, investors and the society. It is their GOALS, expectation and desires that will drive success. not mine as hairy and big as they may be.
Thanks to Sid Mohasseb
---
#6- Receive 40,315 Thank Yous
Our Big Hairy Audacious Goal is to receive 40,315 Thank Yous by 2029 as this marks our 40th year in business. We will be counting all client and team member responses. These thank-yous help assure that our team members and clients are satisfied and are proof of why we're in the lawn care and pest control industry– to help care for people and their property!
Thanks to Brad Leahy, Green!
---
#7- Disrupting the healthcare lending industry
Our BHAG is none other than disrupting the healthcare lending industry through technology, originating $1B in healthcare loans in 2021. Our team has already done $600MM in loans to healthcare professionals such as doctors, dentists, veterinarians and optometrists. However, we are ready and poised to take over the space completely. We have a unique business model that allows us to be the most competitive lender in the space, by either working with lending partners or originating the loans ourselves. And unlike other fintech companies that are primarily equity-financed, we raise capital by offering a best in class savings product to consumers (a 1 month renewable CD that pays 6% APY), which in turn allows us to meet our short term capital needs required for loan origination. We run on cutting edge technology, which enables us to serve clients nationally and scale quickly, unlike traditional competitors in the space that still do business by mail and fax.
Thanks to Edgar Radjabli, Loan Doctor!
---
#8- Stop counterfeiting and IP infringement globally
After operating for nearly ten years, we've recently being going through a company-wide process of rethinking our Mission, Vision, and Values. We want them to reflect where we're at now rather than continuing to be what we started out with. This has been important for me because it's made me think about what I considered possible when we first started versus what I now believe to be the company's greatest goal. And what is very cool is that I still believe we achieve what other people doubt! I honestly believe that through a combination of technology and expert people we can help put a stop to counterfeiting and IP infringement globally. We can protect businesses and consumers from harm. That still feels like a huge and worthwhile objective to me.
Thanks to Robert Stolk, Pointer Brand Protection!
---
#9- Be the #1 Small Giant in Hawaii
You see like Silicon Valley, Hawaii is becoming its own startup paradise. But unlike Silicon Valley, we've got our own set of problems. The biggest one? A lot of great entrepreneurs who start here almost never end here. Why? Because the success rate on the mainland is much higher, and as a result, so much good talent is being exported. After all, it's easy to take a look at our islands and think the opportunity for growth is limited. But nothing could be further from the truth. We need to change that mindset. That's why my BHAG for Brandalaxy is to be the #1 brand strategist firm in Hawaii. But here's the thing, I don't wanna do it just by providing project work that'll help businesses move the needle. Instead, I want to help coach people across entire organizations to better communicate their value. From entry-level employees to managers to entrepreneurs, the only way to create long-term sustainability is to develop people who will continue to lead. And that can't be done just by delivering work. After all, it's no secret that entrepreneurs wanting to scale their business will need great talent from top-to-bottom.
Thanks to Raven Beria, Brandalaxy!
---
#10- Full-time blogging income
To build my blog into a full-time income within 2 years. This seems achievable but is also a stretch. This goal drives me to keep creating good content day after day because I can see what I'm aiming for.
Thanks to Marty Spargo, Kuala Lumpur Tourist!
---
#11- Three BHAGs
I recently achieved a few BHAG's by disproving a medical belief, illustrated the link between Chinese Medicine and the lymphatic system, and postulated completely new theories about the lymphatic system's probable control over hydration throughout the body.  I spoke in Rome at a medical conference, and had a paper published in a medical journal.  That may not sound like much, but I'm a massage therapist by profession without even one biology class to my name! In the course of writing the paper, I concluded I needed to write a book to be a major anatomical source for the lymphatic system.  The book is almost done, and there are two more BHAG's on my hit list… 1. Setting up a publishing company to internationally distribute the book, initially in 3-4 languages.  English, Chinese and Spanish are already being translated:). 2. Continuing that publishing company for other books.
Thanks to Margo Benge, The Creator's Channel!
---
#12- Raising $500,000 in pre-seed capital
As a pre-revenue travel tech company, our biggest challenge right now is raising capital to help us hit our next major milestones. For many startups, this can be some of the hardest money to raise because traditional metrics aren't well established, yet. To offset this, we have focused on finding investing partners who believe in our vision for TravelSOUL and in us as co-founders to bring that vision to life. We also highlight the traction and milestones completed thus far as a reflection of our persistence and passion for our company.
Thanks to Anne C. Fletcher, TravelSOUL!
---
#13- Expand my company
I am based in Bali about half of the year as I am building my first hostel out here. Recently I spent three months in Colombia and in November I'll be traveling around Pakistan for the fifth time and visiting people I work with, out there as part of my Epic Backpacker Tours company. In three years' time, I hope to have grown my hostel chain to three locations and to have expanded my tour company to both Iran and Kyrgzstan. I am involved in six online business and looking for a seven-figure exit in the next five years. I have some personal travel goals as well – I want to build a raft and sail from Indonesia to Papua New Guinea.
Thanks to Will Hatton, Hotel Jules!
---
#14- Democratize corporate learning
Corporate Learning and Development spend $359 billion globally, and according to a recent HBR article, as much as $270 billion of that might be wasted. Small and mid-sized businesses spend more per capita than large companies, but see lower results, because they cannot access the top learning systems. Innov8 Learning Solutions aims to democratize corporate learning by bringing enterprise-level learning management apps to businesses large and small, for FREE. This is done by replacing the large learning company's cable-like subscription model for one that is built to be a la carte – If a company will use advanced functionality, they can get it, but they only pay for what they use.
Thanks to Steve Caponigri, Innov8 Learning Solutions!
---
 What is your BHAG (Big Hairy Audacious Goal) for your business? Tell us in the comments below. Don't forget to join our #IamCEO Community.