Growing up in Israel, Omer became familiar with bombings and missile threats at a young age, but it wasn't until he moved his family to America that he truly felt threatened by gun crime. After witnessing the active shooter drills that his daughters participate in monthly, as part of their education, he felt compelled to come up with a safer, less traumatizing solution. Using his military training, background in government projects and 15 years in real estate, Omer developed Remo Doors.  A recreation of the 'Mamad' – the safe room that he grew up with, in Israel, Remo's bullet-resistant doors can turn any space into a safe protected sanctuary. Protected spaces are legally required to in Israel – from private homes to schools, each new building must have a designated space to shelter from bombs and chemical weapons. Omer's installations in America have received support from over 25 state senators including Ted Cruz, Kamala Harris and Charles Schumer.
Why did you start your business?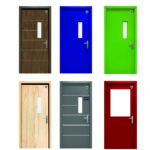 I saw a great opportunity for security doors in the United States.
How did you come up with your business name?  
It's my first name backwards.
Tell us about your products and services. How do you help clients?
We manufacture designed security doors for different applications, such as residential, commercial and educational. We provide our clients a solution that did not exist in the market until now. We work with our clients throughout the entire buying process to educate them about our products and the level of security that goes with them.
What makes you unique? What is your unique selling proposition (USP)? 
The product and our approach sets us apart. We've been on the client side many times and we always want to understand our client needs before we customize their product.
Where do you see your business in the next 3-5 years?
We are set up to become a national provider of security doors with a local factory and logistics centers.
Any advice you would give to entrepreneurs and business owners?
Good people are hard to find. Keep your hiring opportunities active, you never know who's going to show up next.
What is your favorite business quote and why? 
"Iggeres Haramban" its a letter taken from the jewish religion that describes how to act and treat everyone humility.
What have been some of your achievements that you are most proud of? Why? 
My kids and coming up with a way to protect them… Remo Security Doors :"Turning Classrooms into Safe Rooms"
Anything else additional you want to tell our readers? 
"The world as we have created it is a process of our thinking. It cannot be changed without changing our thinking."
― Albert Einstein