Creativity helps spark innovation and break the norms in an industry. Eliqs brings innovation by filling a gaping hole through custom-designed labels to make events more colorful.
Eliqs is a Southern California based start-up who creates custom-designed craft beverage cans for any occasion worth celebrating.
We had a chance to interview the founders: Dave Goldman, Max Berg, and Joe Schwappach and asked about their story, how they started their business and the future of Eliqs.
Tell us your story. Why did you start Eliqs?
We are Dave Goldman, Max Berg, and Joe Schwappach — three UCLA Anderson MBA and Venture Accelerator program graduates. During our time at UCLA Anderson Schoo of Business, as a proof-of-concept, we made a small batch of custom-branded beer with Grandpa's face on them for a Thanksgiving dinner. We scrubbed off the labels of store-bought bottles in a bathtub, replaced them with mediocre-designed stickers…and our Thanksgiving guests were raving about them well into the New Year! At that point, we knew we had uncovered an exciting opportunity, and we figured that if we truly optimized this MVP and became innovative experts in a largely outdated industry, we could take advantage of shifting consumer preferences toward personalized beverage options. We have only continued to confirm this belief as brands, event planners, wedding planners, and local businesses looking to create their own custom-branded beer continues to grow. We are in a significant growth phase as we expand beyond beer to other beverages. Beverages in cans taste better with your face on them, and we're here to prove it!
Tell us about your custom cans and services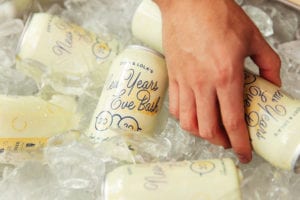 How do you help your clients? Eliqs pairs professional artists with local beverage suppliers to create personalized beverage brands that are tailor-made for individual events – all for a comparable price to craft products purchased off-the-shelf. Minimum orders start at 48 cans and require only a three-week lead time. Orders are delivered directly to events, cold and ready to drink. Combining custom design, local flavor and self-expression, Eliqs elevates every experience. A lot of our clients are unimpressed with status-quo off-the-shelf beverage options available for their events. They're looking for creative ways to get their guest's attention, and are interested in elevating "wow factor" for guests. Our business allows us to help address all of these areas. Our custom designed craft beverages are similarly priced to what our clients would otherwise buy off-the-shelf, but they allow our clients to deliver a very personal message, in a beautifully designed can, turning cans into targeted conversations. We are thrilled to have opened up a new
marketing channel for our clients!
What makes you unique? What is your unique selling proposition (USP)?
We craft and deliver personalized beverage brands in creative cans, delivering a novel conversational canvas to elevate every occasion.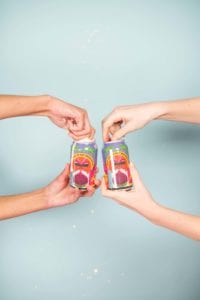 Where do you see your business in the next 3-5 years?
We aim to become the go-to custom beverage provider for every brand, company, event, bar, restaurant, and hotel. Although we have created momentum with custom craft beer for the Los Angeles and San Francisco markets initially, we have both use case and geographic expansion plans that will extend our offering to wine, hard seltzer, sodas, and other non-alcoholic beverages throughout every major market in the United States, starting with expansion into New York, Illinois and Washington in 2020, with additional growth to follow. In the next 3-5 years, we hope to be serving several more markets as the demand for personalized beverages grows! We've got plenty more ideas flowing too, but we encourage people to follow-us to stay apprised of what's next!
Any advice you would give to entrepreneurs and business owners?
An idea is nothing without execution, and execution will always be much harder than you expect! You should always plan for things to go wrong or to be harder than you anticipated, but if you build a great team around you, you'll be able to power through.
What is your favorite business quote and why?
The works must be conceived with a fire in the soul but executed with clinical coolness. – Joan Miró
What have been some of Eliqs achievements that you are most proud of? Why?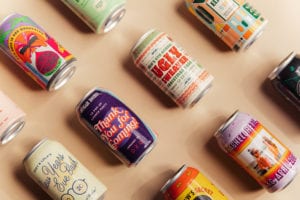 While the technology for canning labels is not novel as it stands alone, our biggest accomplishment to date has been our ability to pair custom design and printing with local craft beverages and expert post-canning label operations to develop a novel supply chain and business model in the highly-regulated beer industry.
We are able to produce small-batch orders for craft cans in order to help our clients create memorable events with can messaging that is specific to key moments in their operations, making not only their beverages, but the messaging on them, refreshing to the guests!
Our three founders all came from industries outside of the alcohol space. Over the past two years, we have become experts in alcohol laws and regulations. Ultimately, this has enabled us to create a new market where one previously did not exist, while also providing us with the operational flexibility to partner with multiple players throughout the existing craft beer value chain, now expanding beyond beer. This has allowed us to deliver a truly differentiated product for the same price consumers would otherwise spend on craft beer at a store. We see this as a pretty great accomplishment for anyone looking for personalized beverages!
Eliqs has not only seen success through weddings and private events, but we've expanded into the B2B world, as industries such as hospitality, entertainment and technology eagerly seek to leverage this new channel to serve as a walking billboard for their brands. Eliqs customers are realizing that this innovative, cost-comparable and convenient product amplifies their brand in a creative way, quite literally putting their brand in the hands of their consumers in a manner that simply hasn't been possible until now.
Anything else additional you want to tell our readers?
To us, beer isn't just a drink, it's a medium that brings people together in shared experiences, and we exist to amplify those experiences through superior design and technology. Established in 2019, Eliqs is a Los Angeles-based, design-forward beverage company that designs custom beverage cans for any occasion worth celebrating. Eliqs elevates every experience. Find us on Instagram using @eliqscollective or on Facebook at
http://www.facebook.com/eliqscollective. Make the can your canvas at
http://www.eliqs.com, or get in touch with us at [email protected].