Storytelling
25 Entrepreneurs Explain What They Love About Being An Entrepreneur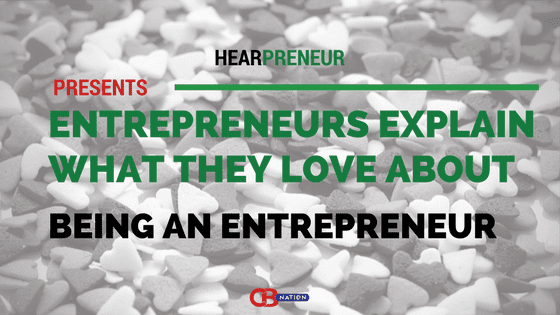 Being in love is great. Being in love with your business, when you're an entrepreneur, is even better. Waking up each morning knowing you are getting to do exactly what you love is more than most people could ever say about any "job" they have had. Although there are days when tossing in your hat seems like a viable option, remembering how much you love your "job" can quickly snap an entrepreneur out of that mentality. Different business owners also have different reasons why they love their business. It might be the products or the customers they deal with, or it could even be the fact that they are the ones in charge of it all. The reasons are as varied as the businesses themselves.
We asked some entrepreneurs what they loved about "being their own boss."
#1- 3 things
First, being an entrepreneur equals constant variety. Being a person who likes constant challenges, opportunities and is easily bored, being an entrepreneur keeps me engaged like nothing else. Secondly, I love the freedom to create. Each day is a new canvas to paint, a hill to climb with no trail, a journey without a map and the person who creatively adds the most value to the marketplace wins. Lastly, I love the pressure. There are no safety nets, backup plans or audibles. It is you versus the world and that for me invigorating. Burn the boats, rely on your God-given creativity and serve people to the fullest! Those are the rules and that's why I love the entrepreneurial journey!
Thanks to Peter Goodwin, Groove Life!
---
#2- Bringing creative thoughts to life
What I love about being an entrepreneur is the ability to bring my creative thoughts to life! Setting my own work hours without anyone being able to tell me what to do or put limitations on my abilities to work. It's so rewarding to have your own rules and watch your company go from a dream to reality! That's what I love about it.
Thanks to Alexus Renée
---
#3- The freedom to be my own boss
It may sound corny, but the thing I love most about being an entrepreneur, and successful business owner, is the freedom to be my own boss. Having the ability to be my own boss and having financial freedom is amazing. It is a lot of work but once you have a successful business you have the financial freedom to travel and live a stress-free life where you don't have to worry about finances. Once you get to the level of success you want you also become accustomed to the work and it becomes a regular part of your life.
Thanks to Manny Vetti, Back Taxes HelP, LLC!
---
#4- It awards me the freedom
Being an entrepreneur awards me the freedom to pursue my goals, my way. Being an entrepreneur truly encompasses my passion for helping others. Through my coaching program—I get to help others grow to the next level of their excellence. I teach them to use their story to master areas of deficiency within their respective fields by helping them develop vision, strategy, and goals for development both personally and professionally.
Thanks to Jadell Lee
---
#5- Problem-solving
For me, I love problem-solving and working with really smart people on those problems. I really believe great teams solve big problems and that's the key to success! When I launched Proper Wild, a healthy, gender-neutral branded energy drink wasn't the norm. I didn't know much about food and beverage development before building my 100% plant-based energy shot business, and I was told Proper Wild would fail because our packaging was too feminine. Instead of listening to the "noise," my team and I ran a bunch of experiments, learned, iterated, and made decisions for ourselves. We problem solved — using good ole fashion lean agile development process. The results speak for themselves, we're one of the fastest-growing digital beverage brands in the United States and don't plan on slowing down anytime soon!
Thanks to Vincent Bradley, Proper Wild!
---
#6- A number of things
It would be remiss not to acknowledge that one of the attractions of being an entrepreneur is the desire to achieve great success, and earn money in the process. But for me being an entrepreneur goes far beyond that. It is about taking ownership and responsibility and nurturing something to maturity. It is also about offering solutions that make people's lives easier, or that disrupt outdated but ingrained ways of doing things. On a personal level, being an entrepreneur is about trying, stumbling, picking yourself up, and going again twice as hard as before, and that is shown by the amount of entrepreneurs out there who have recovered from one business failure to build another stunning success. Beyond that, it is about development, both personal development and helping those you bring onboard to develop professionally.
Thanks to Craig Dempsey, Biz Latin Hub Group!
---
#7- Helping tens of thousands of businesses
Being an entrepreneur is a love-hate relationship. We love the freedom of choice and expression, we love the upside potential of financial independence and/or freedom, and we love the ability to help people in the manner that we choose. We even love the downside parts of business, which can be characterized by overwhelm, overload, stress, and the financial challenges of growth. Overall, I love being an entrepreneur because I'm able to help tens of thousands of businesses grow, which directly translates into a better quality of life for them, their employees, and their respective families. There's nothing better.
Thanks to Doug C. Brown, Business Success Factors!
---
#8- Tackling real-life problems
For me, entrepreneurship provides a unique opportunity to solve real-life problems. The fulfilment that I receive from creating products or services that are used in everyday routine is beyond material value. As the CEO of a digital healthcare platform, I have a keen interest in the healthcare sector. Entrepreneurship in this particular niche provides an opportunity for an individual to touch the lives of others with the products or services that they create. These products and services end up making things easier, increasing efficiency and improving lives. They become part of the daily life of individuals and have the potential to create lasting impact which can outrun our lifetimes.
Thanks to Hamza Iqbal, Healthwire.pk!
---
#9- The ability to build on my ideas
There is something special about having a single idea, then seeing it grow, blossom, and turn into something bigger, grander. It's amazing to see it take a life of its own. When other people join in on the idea and build onto it, it's even more wondrous as you can see people unite and work together on something that was only yours just a short time ago.
Thanks to Michael Kansky, LiveHelpNow!
---
#10- The work schedule is 'my schedule'
I like to start my work early morning and finish it off early & that's how I have designed my company to be. Some days I dedicate the mornings to have a fancy breakfast with my family and work late whilst on others, I follow my daily routine. This is something I love, revamping my routine according to my commitments. This freedom is what I would never want to let go! With this, maintaining a balance is the key, and that is what an entrepreneur should ensure.
Thanks to Klaus Meire, Viirastus!
---
#11- Seeing success
What I love about being an entrepreneur is seeing success. And no, not necessarily financial success, but witnessing something that you've put blood, sweat, and tears into becoming loved by so many people and incorporated into their everyday lives. I have memories of when we first started out, and having my living room filled with alcohol to send out. We started doing our deliveries ourselves, and it's been very rewarding to witness what we've grown into now.
Thanks to Chris Vaughn, Saucey!
---
#12- Three values
Being an entrepreneur requires dynamism, fearlessness, and perseverance: three values that have guided my professional career since I began in the public relations industry over 35 years ago. Now, with three decades experience and several companies under my belt, I can say that those three values are still the ones I appreciate most about the path I've chosen. They've allowed me to remain inquisitive, driven, and open minded – to be able to change with the times and continue to reach as many people as possible with the work that we do. I've had the longevity I could've never dreamed of and continue to enjoy waking up to my work every day.
Thanks to Eric Yaverbaum, Ericho Communications!
---
#13- Freedom to travel
My teenage son is a fencer who aspires to compete in the Olympics one day. For the last 7 years, he's fenced all over the US and even Europe. Prior to COVID, we would either drive or fly out of town every 3-4 weeks for his fencing tournaments. The only reason we're able to make my son's fencing dreams a reality is because I am not employed 9 to 5 and have the flexibility to be away from home for as long as needed… with my business laptop, of course.
Thanks to Victoria Lioznyansky, M.S., Brilliant Speakers Academy®!
---
#14- Sharing my flavors
Being an entrepreneur has been incredibly rewarding for me. Growing up in Sichuan, I was surrounded by all the beautiful and intricate flavors it has to offer. I have complete love and dedication for Sichuanese food. When you create something that has so much heart in it, people always notice. I spent years perfecting every detail of my product and researching the perfect flavors to make it all come together. Fly By Jing started as a pop-up dining experience where I shared my flavors in person with those who choose to attend. All the effort and care I put into what I do resonates with our consumers, and always keeps them coming back for more. Being able to share these flavors with people from all over the world is what has made being an entrepreneur so exciting for me.
Thanks to Jing Gao, Fly By Jing!
---
#15- Because I am passionate about my business
I was diagnosed with post-barbae folliculitis as a child and struggled seeing flawless skin on my screen constantly. I was also blatantly aware of the lack of BIPOC representation in the skincare industry. Since then, I have set out to shake up the beauty industry, creating a brand that states you make your skin look good, not the other way around. On our website, we feature women who have real skin— flare ups, skin disorders… no one has "perfect" skin. We have now grown into an overnight hit, as we had built up a huge community of BIPOC women with skin conditions years before even launching Topicals. We have a dedicated following of men and women who celebrate mental health and own feeling good in their skin. Being an entrepreneur has been more than just a title for me. It's been about setting out to help others like me.
Thanks to Olamide Olowe, Topicals!
---
#16- Utilizing my specific strengths
Being an entrepreneur offers the opportunity to take my specific strengths and utilize them in any way that fits within my company's goals and values. Entrepreneurs aren't tied to a specific role or the same repeated tasks – but we have the availability to make big moves and pivot toward innovative new ideas and strategies. In short, the freedom to just be an entrepreneur is one of the most motivational things on the planet.
Thanks to Greg Gillman, MuteSix!
---
#17-Pursuing interesting opportunities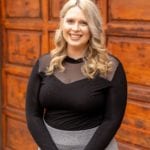 The thing I love most about being an entrepreneur is being able to freely pursue opportunities that excite and challenge me. A major plus side of owning a business is cultivating a network of clients, vendors and staff that share your professional point of view – for me, that view is to do good work for good people. Another side perk has been increased confidence in my professional acumen and decision making abilities – as the owner of the company, my assurance in navigating situations that are best for the company – and myself – is at an all-time high.
Thanks to Samantha Flynn, Junipr Public Relations!
---
#18- Ultimate flexibility
The best part about being an entrepreneur is ultimate flexibility. You can create your product, schedule, company culture — everything comes from you. Then as your idea grows, you can see the product you've created and processes you've built take on a life of their own.
Thanks to Darren Litt, Hiya Health!
---
#19- There are no set parameters
I love that there are no set parameters for my niche. Although I started out in SEO, I've now branched out in digital marketing, lead generation, and have even co-founded a plant-based food delivery service in London. Being an entrepreneur means that I decide where the company is going, and can explore new ideas without being shoved into someone else's box.
Thanks to Deepak Shukla, Pearl Lemon!
---
#20- The ability to make a difference
What I love about being an entrepreneur is being able to make a difference in people's lives by developing quality products. At Gainful, our mission is empowering our customers to feel pride in attaining their goals. We sweat the details so that they don't have to – giving them peace of mind that their supplements contain the finest ingredients, specifically for them. I am proud of our mission!
Thanks to Eric Wu, Gainful!
---
#21- Being a dad who is an entrepreneur
Parents often feel the pressure to look perfect to their kids, like the people who've figured it all out. My colleague at MIT who studies the science of learning once said to me that this approach is misguided. "Kids need to see you struggle," said my friend, "This gives them a more realistic picture of life and makes them resilient." Since that moment I've loved sharing my ups and downs with my kids, brainstorming with them, asking them to problem-solve with me. And I've found that kids, in general, have a great natural grasp of entrepreneurship, because they are able to think simply and creatively. So this has been the best part of entrepreneurship for me and I wish it wholeheartedly to others.
Thanks to Erdin Beshimov, MIT Bootcamps!
---
#22- Freedom to express my opinion
I love being an entrepreneur because it is a profession that has given me the freedom to express my opinions. I love it that there are people who appreciate me for being who I am. Of course, there are people who don't always agree with my thoughts but I always learn from them. I love to understand things with different perspectives. I love keep learning new things everyday.
Thanks to Ekta Swarnkar, Tia Says!
---
#23- Having the freedom to choose
Not only can I choose the direction I want my business to take and the people I want to work with, but I also have freedoms I would never dream of if I was working for someone else. It took a lot of hard work, long hours, and sacrifices to reach the point I am at now. I have the flexibility to spend time with friends and family, and vacation where and whenever I want.
Thanks to Meg Marrs, Safer Senior Care!
---
#24-The constant itch for improvement and opportunity it brings
I'm sure I can speak for all entrepreneurs when I say we're always looking for new business opportunities, or ways to expand and improve our current endeavors. There's something gratifying and motivational about always being on the lookout for the next greatest thing, and always being ready to embark on a new mission or chase a new idea at a moment's notice. It's like an itch that can't fully be scratched, which translates to a never ending sense of drive and passion for creating new businesses that help others. Not only that, I also love that entrepreneurs are always looking around for solutions to the problems we all face. Not everyone is focused on this; in fact, I'd argue that many are more interested in finding new problems rather than solutions to their current ones. The knack that entrepreneurial minds have for turning inconveniences and struggles into opportunities and solutions is incredibly inspiring for me, because I know it helps better the lives of everyone involved.
Thanks to David McHugh, My Mixify!
---
#25- A feeling of accomplishment
Entrepreneurship has opened many doors for me. I think that what I love the most about having my own business is the fact that it creates a feeling of accomplishment. You know how much work you've put into something, and when it gives back, the feeling is incomparable to anything. You don't feel as satisfied with your regular 9-5 job, even when you get praised by your boss for your great results and productivity. Being critically acclaimed by the ever-changing and unforgiving market. Your business getting endorsed by famous influencers in the sector. Being talked about on social media mainly in superlatives. Having a well-performing personal brand. Hosting famous guests in webinars. I could go on and on, but these are the elements of accomplishment that drive me forward the most. And I think that these are, easily, the things that I love the most about being an entrepreneur.
Thanks to Michał Suski, Surfer SEO!
---
What do you love about being an entrepreneur? Tell us in the comments below. Don't forget to join our #IamCEO Community.