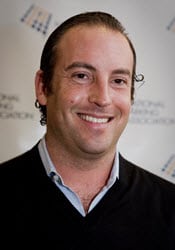 Fitness is at the forefront of a healthier lifestyle. More and more people are signing up for unique and challenging fitness classes. Gone are the days of boring gym memberships. This new, active lifestyle requires the right tools and clothing options. John Udelson, founder of Crane & Lion, gives women chic clothing options for both a fashionable and an active lifestyle. We sat down with John to learn more about his company and background.
Tell us about your background and what led you to start your business.
Prior to launching Crane & Lion, I founded Curbside Hospitality in 1997.  Curbside provided more than 100 hospitals and other healthcare facilities nationally with hotel-caliber valet parking and greeting, garage management, and shuttle services. I sold Curbside Hospitality in 2013 and started Crane & Lion, I wanted to pursue a new venture in the apparel business.
Tell us about the beginning days of your company and how you took it to where it is now.
Crane & Lion began in May of 2013, with an official launch in November of 2014.  So, essentially we are still in our beginning days. Crane & Lion has had grass-roots success with both retail and home trunk shows, average $1k per trunk show and averaging 20 shows per month. We've had early success with retail placement with current clients including Exhale Spa, The Ritz Carlton as well as yoga & fitness retail customers. Combined with solid eCommerce sales, we are off to a great start.
Tell us about your products and what makes your business unique.
Activewear has moved to the front of our closets — a welcome trend that inspired the creation of Crane & Lion.  Active women want a wardrobe that works as hard as they do — with style and flexibility.  Crane & Lion's fashion-forward activewear strives to reflect and empower the fashion statement they make each day.  Crane & Lion's design philosophy stems from our desire to provide women with resilient clothing that is also chic and sophisticated.  Our carefully chosen fabrics, functional design and subtle design detail allow for optimal movement, comfort and support.  Crane & Lion fashion-forward performance wear effortlessly transitions women from the yoga mat to meetings, shopping and social engagements.
Where do you see your business in the next 5 years?
We hope to expand our line to offer more styles to our customers.  We also hope to continue to increase sales to larger retail accounts in a national market along with the development of a retail showroom on the West coast. We also will continue to promote Crane & Lion's presence by continuing to hire local sales representatives throughout the United States. In addition, we hope to have a retail presence in key markets.  Our first retail store will be opening in Boston in the fall of 2015.
How has being Boston based influenced your company and what advice would you give to other Boston entrepreneurs?
Boston has a wealth of creative resources that are an inspiration to the Crane & Lion clothing line and team.