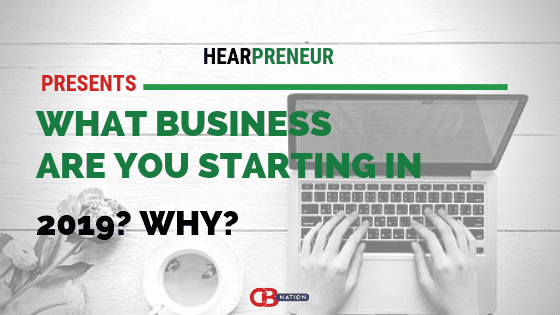 As we wrap up 2018, there are those business ideas you've been longing to start and 2019 is the year to implement them. This could be a home-based business, franchise option or whatever option looks attractive to you. One thing is certain, your business will succeed if you can put in the right energy and bring in the right people to kick-start it.
We asked entrepreneurs and business owners the businesses they're starting in 2019 and here are the responses.
#1-Solar Company
I have just started and am launching a Solar Company for 2019. The Solar Industry has been seeing exponential growth for years now. Homeowners across the country are starting to see Solar pop up in every single neighborhood and it is becoming more accepted and appreciated. 2019 is going to be the best year yet for Solar. This is for a combination of reasons. The country is at a tipping point where they are understanding the benefits of Solar Energy and that it is real and here to stay. Additionally, the Federal Government is offering a 30% Tax Credit for homeowners to go solar as an incentive. This has been going on for years, but in 2020 (because the quota for Solar is being reached) the Tax Credit is going down to 26% and then going away entirely. 2019 is the last year with the biggest government incentives to go Solar! This is why we should expect to see another massive increase in homeowners going Solar in 2019!
Thanks to Chris Perruso, Tru Power Solar Energy!
---
#2-A coworking community
I am launching, FreshCo Community, a coworking community with my business partner, Tia Randle February 2019. I, personally, have hosted an annual coworking event since 2014. I began to host these event to bring together like-minded people so I could have stronger business relationships within Houston. This year I hosted my annual coworking event and as people were leaving they asked when the next one was. The next day I brought on a business partner to turn my annual event to monthly. As we began to work, we noticed more people were sending us messages saying what they felt was missing in a community here in Houston. So we decided to turn the event series into an actual coworking community. We are creating a fresh perspective on coworking by curating a community of people who feel isolated, are moreso introverted and looking to collaborate with others as we each build and grow our businesses. Unlike most coworking communities we will not own our own space. We will use coworking spaces that already exist in Houston. Also we have added a layer of unique aspects to help provide both personal and professional development for our community members as well as socialization options. One key aspect we will have in our community is an annual international trip that will allow us to cowork in other countries while also taking a vacation. As we get closer to launch date, we'll share more. But overall, Houston needs a coworking community for people who don't have an office or want an office but still have a group to connect with during business hours. In other words, an office structure without the office politics.
Thanks to Vernetta Freeney
---
#3-A social enterprise
I'm looking to start a social enterprise, called 1Degree, which will look to connect people from disadvantaged areas and backgrounds with mentors who came from a similar background and found some degree of success. It is my hope to help inspire and motivate other people from areas like the ones I grew up in, and ultimately increase the rate of college applications, employment and career opportunities. I will run this in conjunction with my business now, so I can try give back to my community and one which resembles it.
Thanks to Robert Rodrigues, flo.ie!
---
#4- A new online system
Over the last decade I feel my business has gone through a series of evolutions. It's taught me a big lesson – where your business starts is rarely where it ends up if you continue to grow (personally and professionally) and listen to the changing needs of your clients. Rather than launching a new business in 2019, my business is about to move into its latest evolution; bringing together everything I've learned to date for the benefit of a broader audience through a new online platform. My goal has always been to help entrepreneurs successfully connect with their clients and build lasting relationships – and to inspire new female entrepreneurs in particular. So in 2019, I'll be launching a new online system that fully equips women with core business skills and understanding, while also helping them build their confidence and growth mindset so they always feel in control and able to put their best foot forward. Given that access to role models and support is also a key factor in any woman's success, the platform will also promote a strong sense community and sharing. There's a lot of work to be done in the meantime, but I hope to see the Business Blueprint Community Live by next Summer. Nothing like starting the year with a big goal!
Thanks to Melitta Campbell
---
#5
-Add services to my new business
Raising a now-grown son who has had two heart transplants and cancer (for starters), my wife and I have two decades of pediatric hospital experience.  I realized technology has impacted relationships, that social media provides a larger quantity of friends, but at the cost of quality.  At the same time, healthcare costs continue to escalate, so friends who could provide care are less equipped to help, and the system providing the solutions is straining the finances of one of the largest groups of payers.  Therefore, I established Still Thankful LLC early this year. For now the site is just a blog, but I hope to have a number of services in 2019 to provide opportunities for friends and family to support medical families, eventually relieving the burden caused by the healthcare system. Three ebooks are now available teaching three basic but necessary lessons, and soon to come is a "survival kit" with items a parent can use while their child is hospitalized.  Future services will include crowdfunding, activities for kids and home services for friends and family to coordinate and sponsor.
Thanks to David A. Cary, Still Thankful LLC!
---
#6- JaaS-section
I will say there are many possibilities for 2019. As you know the world we live in today offers wide-ranging possibilities. As for what will be my next business choice I will say it will be in the JaaS-section. The Justice-as-a-service is a growing market, as it can be seen with Airhelp and many others. This market in my opinion is undervalued, because of where our society stands now. Customers want what they are entitled to, such as compensations when a flight is delayed, but they don't want to put too much effort in making a case or risk anything. With software and technology, we change the game and we can make it easy for customers to start their case and risk-free.
Thanks to Mike Vestergaard, DIGURA!
---
#7-Two businesses
I work in the wealth management industry as a solo practitioner. I don't plan on hiring anyone or scaling the business, however, I do plan on building additional passive income using the same subject matter expertise. So I will be launching to new segments in 2019. The first one is my online university. This will be a hub for teaching attorneys how to be prudent DIY investors and how they can build their own financial plans. These courses will be sold at a fraction of my rates but allows me to market to larger firms, law schools and provide a low-cost solution for clients that don't fit the criteria to be my client. In addition, I also want to launch a business that would provide alternative to long-term care. This solution will bridge long-term care insurance with custom-made Additional Dwelling Units that could allow someone to age at home with love ones while still getting a high level of care. Both initiatives allow me to broaden my brand as an educator and a forward-thinker for how to solve the pending long-term care crisis.
Thanks to Chris Jackson, Lionshare Partners!
---
#8- A business to co-write and ghost-write books
For the past ten years, I've been traveling full-time as a housesitter where I live in someone's home at no cost while caring for their pets.  For income, I've rented out my house and supplemented my income through freelance writing.  Last year, I wrote and published How to Become a Housesitter: Insider Tips from the HouseSit Diva, available on Amazon or my website and have been having a ball publicizing it. I decided to sell my house this year, so I need to expand my income from writing.  In 2019, I plan to launch a business to co-write and ghost-write books.  I've started this fall with one client, and it's been great!
Thanks to Kelly Hayes-Raitt, HouseSit Diva!
---
#9-The Industry Formula
My business partner and I are starting The Industry Formula. We aim to empower small-to-medium sized restaurants, venues, hospitality organizations and businesses to take control of their sales and marketing efforts. Many restaurants cannot afford a full-time sales and marketing team, but we aim to bring together a combined 30 years of experience in the Industry, and sales and marketing templates, or formulas, to consult and advise these businesses on how to succeed.
Thanks to Beth Lawrence, The Industry Formula!
---
#10-Grow our crypto simulator startup
We are focused on educating people about blockchain and crypto and in 2019, I believe we will continue to see the growing interest and adoption of blockchain technology and the use of cryptocurrencies. Although the cryptocurrency market has declined in the last year, I think this is a great time for companies who are serious about long-term success in the blockchain and crypto space to be building their companies. It means that we can lay the best foundation and grow and accelerate our business while others are still waiting on the sidelines. We have the opportunity to become thought and industry leaders during this winter of crypto.
Thanks to Cynthia Huang, Altcoin Fantasy!
---
#11- Affordable solutions to protect businesses
50% of companies deal with legal problems every year. That's not a small matter – a lawsuit can destroy your business. Even if you win, you could end up dropping a cool $100,000 on the lawsuit defense; and that's to say nothing of the business interruptions and personal stress. What if you could stop most lawsuits before they happened? In January 2019, the team who created LegalZoom are launching BizCounsel. BizCounsel is an affordable solution to protect your business – by having an experienced attorney identify legal threats before they can cause harm. We'll proactively identify legal issues such as employee and vendor disputes, overtime claims, and landmines hidden in your business contracts.
Thanks to Scott MacDonell, BizCounsel!
---
What business are you starting in 2019? Why?
Tell us in the comments below. Don't forget to join our #IamCEO Community.