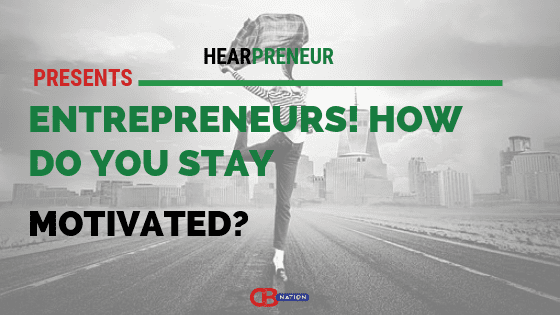 When the going gets rough in business, you'll need motivation to keep moving. Motivating yourself can be hard but practicing consistent habits such as reminding yourself of why you started can be a major boost. A network of friends and partners can also serve as a great assurance and reminder that you're not walking.
Here's the various ways entrepreneurs and business owners stay motivated in business.
#1- Regular vacation and self-care
I have been self-employed since 2002. Over the course of owning multiple businesses in different industries I have learned two things that help me keep going. First is regular vacations. These don't have to be long, but I do need to go and try to not work! This helps me refocus, renew and sometimes even get great new ideas as I am exposed to new things. Second, is making self-care a priority. If I am worn out and exhausted it is hard to stay motivated. So I make working out, sleep and meditation all non-negotiable. If I skip these for too long, it impacts the quality of my work and my willingness to keep going!
Thanks to Andrea Travillian, Aspirify, Inc.!
---
#2- Finding my WHY and keeping it in sight
Every entrepreneur is lured into business ownership for similar reasons like being their own boss and financial freedom. Quickly, we end up working longer hours, performing smaller tasks and making less money than when we worked for someone else. It is easy to lose motivation. I never start a business without clearly defining why I am starting that business and why it matters that my business exists. I remind myself of this reason as often as I can to keep my energy high. To spread happiness throughout the planet, build extraordinary relationships, change people's lives for the better, help heal the planet. These are reasons why I have started businesses. They keep me motivated to do the hard work it takes to be a successful entrepreneur. Yes, I want financial freedom and to be my own boss, but I know the more I focus on my 'why' the sooner I will reach these goals and the more fulfilled I will be along the way.
Thanks to Mariya Newman, Boba&Vespa!
---
#3- Three ways
I have owned my own business for over a decade and the one thing that runs true at all times is that motivation to keep going is the heartbeat of keeping the doors open. From nasty clients to not enough money to pay the bills keeping a smile on your face is the trick. How do I stay motivated? First is I meet weekly with a group where we help and encourage each other which has been a life saver. Second is reading 'the greats' and learning that everyone goes through the same thing. Lastly is simply patting yourself on the back along the way, cherish the little things to prepare for the big things. One new happy client is worth their weight in gold and remember to appreciate them.
Thanks to Cheryl Poldrugach, Panic Aide!
---
#4- Keeping the ultimate goal in front of me
The best way for me to stay motivated is to keep the ultimate goal in front of me at all times. At Chanty, our north star metric is the number of sign-ups we get daily, so I try to streamline all my activities to be related to signups in some way. We keep track of this metric daily and mention it on our weekly team meetings. It's a great way to keep myself and the team motivated since we know at all times where we are and where we want to go.
Thanks to Dmytro Okunyev, Chanty!
---
#5- The desire of facing the unknown
Running a business is like an adventure in an unknown territory where no one knows what lies in the next fold of the trail. I am an adventure freak from my childhood and I see my business like a lifelong adventure. You can never be 100% sure of the coming future of your business. Tomorrow you might gain a high ground for your business or you can fall in an abyss too. If you get a high position, you should think to go higher even more and if you found yourself in an abyss, you must find the ways to reach the safe zones. Hence, business is full of falls and rises, survival tactics, enjoying the hard-earned targets, uncertainty, thrill etc, in a word, adventure. This adventurous journey keeps me motivated to run my business.
Thanks to Andrei Vasilescu, DontPayFull!
---
#6- Keeping a list of learning lessons and what I'm doing right
The hard truth is that running a business is tough, but it's possible to stay motivated as an entrepreneur if you have the right systems in place. One thing that works for me is that, in addition to keeping a list of my learning lessons, I also keep a list of what I'm doing right! When times get tough or there's a situation you need to solve quickly, this data can be just as useful as the learning lessons that come from mistakes. Also, don't be afraid to disengage with your business. Downtime really works. Not thinking about work for a day can lead to problem-solving in areas where you were stuck before you took a step away. Once you have a team in place that can carry the day to day, plan self-care and downtime – it's a key component to staying your course.
Thanks to Carisa Miklus, tilr!
---
#7- Connecting with the bigger picture
A big way I stay motivated is by focusing away from myself and remembering the bigger picture of how my business helps the community. Connecting with that higher purpose really keeps you going through the hard times. I work with animals, so for me, all I have to do is think of the terrified shelter cat who's able to finally rest, or the abused shelter dog that learns to relax in the presence of a human. So when I deal with a difficult client or have a mountain of administrative tasks to complete, these memories of animals I've worked with help me to stand up and keep going no matter the discomfort I'm feeling or whatever obstacle comes my way.
Thanks to Kathleen Prasad, Animal Reiki Source!
---
#8- Working with interesting clients
I stay motivated and engaged as a startup entrepreneur by working with interesting clients and by learning new ways to grow our businesses. There's nothing better than knowing that you are driving results for someone else's business while growing your own. I continually seek out new opportunities and skills that allow me to better deliver on my promise of value to my clients.
Thanks to Juli Lassow, JHL Solutions!
---
#9- I rely on systems and processes
Over the years, I've found that motivation is often temporary and fleeting. You might feel really motivated today, and then you have an argument with someone — and all of a sudden you've lost your motivation. So I've found that it's more effective to rely on systems and processes to get the work done instead. For example, I generally have a fixed start time and end time for each workday. I also set a target for how many 30-minute focused work sessions I do each day, and I track this number daily. I also have a pre-work ritual that involves putting my phone away, starting a timer, and playing white noise that helps me to focus. By using these systems and routines, I'm able to be productive even on days when I don't feel motivated.
Thanks to Daniel Wong
---
#10- Bringing in a partner
The best way I've found to stay motivated is to bring a partner into the business – working closely with someone else is motivating as you don't want to let the other person down when they're depending on you. As you start to depend on them they become motivated as well, effectively creating this incredible feedback loop of motivation. Entrepreneurship isn't for everyone, so make sure you pick a partner who isn't afraid to work hard and sacrifice things today for a better outcome tomorrow.
Thanks to Chris Shellenbarger, CloudRepo!
---
#11- Japanese forest bathing
The best way I stay motivated is to manage my stress levels with the Japanese practice of forest bathing called Shinrin-yoku. Forest bathing – going for a walk, surrounded by quiet greenery and clean air – is the most effective remedy that I've found. There is a silent, stress-absorbing quality to it. Everyone can tell when Mom needs space – and the kids know they will be better off when I come back. Despite my efforts to block out work thoughts, ideas or solutions sometimes come to me in the woods when I'm not thinking.
Thanks to Sara Schaer, Kango!
---
#12- Creating an inspiring environment
Environment is everything to me when it comes to motivation. As a creative entrepreneur with multiple employees, I strive to create an environment that is inspiring and in turn, motivational. My desk and various spaces in the POSH PR® Studio always have fresh flowers. Something as simple as smelling the fresh scent of roses can help spark creativity and increase productivity. I firmly believe keeping a beautiful space allows for me truly stay motivated to work harder each day. From trading in classic BIC pens for gold ones, to curating beautiful furnishings, each detail of my space serves an intentional purpose. I love that my office space seems to invite me in each morning and set me up for success. Running a full-service fashion, beauty and lifestyle agency that runs on creativity is not an easy task. However, when creating a space that motivates and inspires you, it allows for me to boost not only my creativity but also the creativity of my employees and keep us motivated as a team to serve our clients well.
Thanks to Caroline Kalentzos, POSH PR®!
---
#13- Meeting like-minded business owners
I've found it so incredibly motivating to create time and space in my schedule to meet with other like-minded business owners. In fact, it's been so essential to growing my business and helping maintain my sanity that my business partner and I created a separate local business to help other therapists and private practice owners network, learn and grow together. It's been life-changing to be able to connect with other practice owners and troubleshoot together on a regular business. Being able to tap the knowledge, experience and humor of other business owners have been great for preventing burnout and keeping me motivated.
Thanks to Ginger Houghton, LMSW, CAADC, Bright Spot Counseling!
---
#14- Practicing gratitude
I set new goals for myself in Q4 of every year. I set financial goals, of course, but also set goals like attracting new customers who align with my values or ones who appreciate the service that I provide. Gratitude helps increase my mental ROI. I've reached a point in my business that I'm comfortable, but I never take that for granted. I continue to appreciate that my clients are choosing to work with me, and I treat them like they're indispensable because they are. They provide me the opportunity to set my own schedule and be at my kids' dance classes and soccer practices. Practicing gratitude for all of my blessings and specifically for the customers who patronize my business, month in and month out, helps keep me motivated to maintain a thriving company.
Thanks to Robin Rucinsky, Thrive Advertising!
---
#15- My team members
I am a business owner who works with a fantastic group of team members. They keep me motivated each and every day and make me feel excited to come to work. Our team of employees is diverse, of every age, gender, and ethnicity, and everyone has their own idea of fun that contributes to our company culture. Every person feels empowered to be themselves which is critical to feeling happy and motivating the team in addition to myself.
Thanks to Deborah Sweeney, MyCorporation.com!
---
#16- Being part of the Entrepreneurs' Organization (EO)
I'm a member of the NJ Chapter, and one of the benefits of EO is attending monthly meetings with a "forum" — a group of 6-10 non-competing entrepreneurs who basically become a mix of your closest friends and Board of Directors. We take turns presenting on issues, both business and personal, and then share in a gestalt manner any experiences we feel might be of value to the presenter — and everyone in the room learns. In addition to receiving great takeaways that I have been able to implement personally and professionally, I leave each meeting with my peers — peers who are going through the same crazy ups and downs that accompany the life of an entrepreneur — feeling re-charged and armed with new perspectives.
Thanks to Denise Blasevick, The S3 Agency!
---
#17- Review completed tasks each day
I find a great way to stay motivated is to review your completed tasks at the end of the workday. Often we can feel overwhelmed as Entrepreneurs, especially when our planned schedule goes out the window because of an unforeseen problem or issue we have had to deal with. To acknowledge that I always review my day to appreciate the work I have done, even if it has deviated from the original plan. Then I update my task and schedule for the next day, make sure that I have a clear end to my workday by stepping away from my laptop and cooking dinner. For me, my evening meal signifies the end of the workday, and is a great way to unwind and feel accomplished after creating a nice meal, even if I've had a bad day!
Thanks to Hannah Cox, betternotstop!
---
#18- Having a periodic plan
The more tactical you become with your action plan – the easier it is to stay motivated. It is important to have a periodic plan in place (whether it's weekly, bi-weekly or monthly). Always have a list of things (broken down to the molecular level) that you need to get done to move the business forward. Once you create this list (ideally every week) – you will notice that the challenge to complete the tasks itself will drive you. I do this every weekend. Every Saturday I write down all the tasks I need to accomplish next week. I also write why these goals and tasks are important and the impact it will have on the business and my customers. Once that is done, I feel a sudden surge in my motivation. The drive to get my list completed – adds a sense of urgency in my week. Even if my motivation drops during the course of the week – I refer back to the list, and this keeps me on track.
Thanks to Nissar Ahamed, CareerMetis.com!
---
#19- A number of ways
So, whether it's a beautiful company or scenery, there are distractions in my life. That being said, the business won't run itself. Here's what I do to get back to business: If it's stress or apathy: I exercise. Everyone knows that endorphins motivate, and the fastest way I can build motivation is to get moving physically. If I'm upset about a loss, I'll crank up some positive tunes and think back on the last time we had a loss – they are almost followed by an uptick. If I'm having a personal conflict with a team member, I'll bring in a third party to help us gain a broader perspective, and help us resolve our issue. As a business owner, it's up to me to set the tone at my company. So, I try to model positive behavior, no matter what is trying to hold me back in the moment. Part of that is having positive coping skills.
Thanks to Chane Steiner, Crediful!
---
#20- Activities I enjoyed as a child
One of my favorite things to do is to indulge in activities I enjoyed as a child. It's often the simpler things in life that make an impact and bring energy back into our lives. Riding bicycles along the boardwalk? Yes! Telling awful knock-knock jokes? Can't wait for more! Gabbing on the phone for hours about nothing? Yes please! I recently connected with a friend and spent 3 hours talking about everything from business to the stars and moon. I left that conversation feeling energized. When working long hours, it's easy to lose your sense of creativity and joy. That's why it is so important to invest time into connectivity, fun and laughter. Instead of forcing productivity, it can be helpful to take a step back and just enjoy life even if for a moment in time. When our batteries are fully charged, creativity will pave the way for endless motivation.
Thanks to Sonya Lee 
---
#21- My kids
Call it cliché, but it's my kids who motivate me. Every single morning, I make sure to schedule in family time before I ever head to work. I do that for two reasons: 1. No matter how crazy the day gets, I know I've spent time with the people who matter most to me. 2. This serves as a recent and easily referenced reminder throughout the day, especially when it gets crazy. I love drawing on my family, and they truly give me strength. I created my business before my kids were born, but they have quickly become the *reason* that I do what I do.
Thanks to Reuben Yonatan, GetVOIP!
---
#22- Novelty of new things
I stay motivated by attending to my environmental needs. A workspace that stimulates all five senses keeps me alert and in high gear when I'm doing laptop work. I rotate among a variety of public spaces including libraries, hotel and office building lobbies, museums, parks, botanical gardens, funky diners, churches, and bookstores. The novelty of new sights, sounds, scents, flavors, and seating keeps me fresh and invigorated. If I get distracted when I should be writing, I disable my internet access so that I can only write and edit, but nothing else. It always boosts my productivity.
Thanks to Dr. Kerin Groves
---
#23- Talking with our customers
We're a user research platform so customer feedback and truly understanding our users is not only part of what we do but necessary to building a great product. I've found that whenever I'm feeling burnt out or stalled on what to do next, having a few customer interviews and conversations really ignites the motivation engine by hearing how we're helping people every day do their work!
Thanks to  Zack Naylor, Aurelius!
---
#24- Podcasts or websites for amazing content
I am fueled by the amount of amazing content, generous resources, and incredible mentors who put themselves out there consistently. Whenever I'm feeling off my game, discouraged, or impatient, I dive into podcasts or websites from some of my favorites, like Amy Porterfield. Over the years, she's covered it all and her free content is vast and amazing. I take a brain break to refill my motivation tank and renew my hustle.
Thanks to Kristi Andrus, LUXICoach.com!
---
#25- Priority on mental health
Staying motivated can be extremely difficult as an entrepreneur, especially when burn-out can be inevitable. One thing that I make a priority is mental health. I start my morning off with motivation, meditation and/or yoga. If you start your day off with a positive mindset, you get positive results. I also have a team of business or success coaches that I keep in touch with. I have always been a firm believer in keeping like minded people around you.. Fly with the eagles or scratch with the chickens…This group of six-figure earners who have been where I am and are where I aspire to be, are my "accountability crew" to make sure I stay focused, motivated and encouraged.
Thanks to Keymia Sharpe, Key2MIA!
---
#26- Two ways
As an entrepreneur there are two things that help me stay motivated while running my business. First is not compare myself to others. I stay in my lane because it's the only thing I can control. Social media has made this hard to do because everyone's life looks so perfect on Instagram, but there is no perfect. Everyone has struggles and doubts. That picture is just a picture. Remembering that helps me channel my energy into what I can be doing to support my vision. The second thing I do is make self-care a priority. Successful people take care of themselves. They make their mental well-being a priority. That includes making time for meditation, exercise, family, friends, travel, hobbies and sleep – things that fill up the well. So, when I start to feel overwhelmed I make a list of what I can delegate, what I can automate and what I can get rid of. By doing this I usually find at least 15 minutes a day to do the things that fill up my well, stay passionate about my business and give the most to my clients.
Thanks to Eileen Fein, Breathe with Eileen Fein!
---
How do you stay motivated as an entrepreneur? Tell us in the comments below. Don't forget to join our #IamCEO Community.