The digital age has seen new disruptors innovate the best solutions to counter common problems people face. While there are countless disruptors in each industry, there are those who become one's favorite for different reasons.
We asked entrepreneurs and business owners who are their favorite disruptors and here are the responses;
#1- Unpakt
One of my favorite disruptors is Unpakt which is making ripples the moving industry which up until Unpakt had never successfully been disrupted. Unpakt lets users compare movers and prices in realtime and then book their move online which is a first for the industry. Unpakt has seen tremendous growth and has now had over one million moves books through its platform. It's really a win-win for consumers and movers as users can save on their moving costs whilst movers only pay a success fee if they're successful in booking the move.
Thanks to Matt Woodley, CreditInformative!
---
#2- Kōnosuke Matsushita
I don't remember how I stumbled upon the book 'Matsushita Leadership' by John Kotter but once I start reading it I could not stop. In 1917 Matsushita founded what is now Panasonic and beyond his product innovations (e.g., new and improved light socket, a more efficient battery-powered bicycle lamp) what impressed me the most is how somebody like him without a formal education and from modest beginnings, at the start of the 20th century, realized the power of marketing and sales force and created a sales distribution channel that allowed his small company to compete with the big corporations. He also had a natural talent for people and understood the power of human resources; therefore he prioritized his employees salary during the wartime like nobody else. He said things like 'people before products' and 'your subordinates are superior to you in different ways'. And in return they had his back when things got hard and appreciated him deeply.
Thanks to Irina Cozma,PhD, Irina Cozma Consulting LLC!
---
#3- Macklemore
This may sound crazy but Macklemore is my favourite disruptor – he didn't want to be just part of the system, he wanted to make it as an artist independently which is quite unheard of in the music industry. He did this with his platinum record, Thrift Shop, and even got to perform it at the Grammys. The success that he (and Ryan Lewis) achieved is admirable – to disrupt an industry like the music industry and come out as a global success was just incredible.
Thanks to Danny Scott, CoinCorner!
---
#4- Marc Benioff, CEO of Salesforce
He pioneered software-as-a-service as we know it, going from on-premise solutions to solutions that are in the cloud. Every modern-day SAAS CEO has him to thank for paving the way. In addition, the core values that he's created for Salesforce and the emphasis he puts on giving back, has helped shape my company and its culture.
Thanks to Jason Davis, Inspire360!
---
#5- AirBnB and RentTheRunway
AirBnB gave an alternative to home ownership, and in turn, provided travellers and tourists the chance to explore more intimate and special forms of hospitality. It forced the hotels and hospitality industry to wake up from a slumber of complacency and changed the game forever. In turn, for the travellers, it has changed the expectations forever. It ushered in a new business model, and has since been expanding its network. RentTheRunway is another gamechanger. It made luxury temporarily available for those who aspire to it for a fraction of the price of ownership. In turn, it also provided a steady revenue stream for the designers and fashion houses who could not sell their inventories. Apart from proposing a win-win solution for both parties, RentTheRunway also was welcome in terms of sustainability. Fashion has a tremendous impact of the environment, and fashion houses often destroy unsold, or previous seasons' clothes that go out of style. In that respect, RentTheRunway provided for a great alternative.
Thanks to Mr Avinash Chandra, BrandLoom!
---
#6-NetFlix
My favorite disruptor is NetFlix, as a CEO of a law firm I don't have enough time to watch TV and participate in other activities. Run a business, taking care of obligations and keeping in touch with clients, and maintaining health leave very little room to be able to sit down in front of the TV for hours at a time. When I do have some time to watch movies, it may be while I am waiting for my next appointment with the clients, or I have extra time for myself. I can view it on my own time with NetFlix. It has a wide variety of old and new TV shows, movies and high-quality original programs, and easy to navigate interface.
Thanks to Shiyang Gong, AiLaw!
---
#7-Sir James Dyson
He is the founder of Dyson, which is a British technology company that designs and manufactures household appliances including vacuum cleaners. The company recently announced that they have invented a new ventilator, known as the CoVent, and designed it within 10 days to help fight COVID-19. They're working hard to get it into production as quickly as possible. The innovation, and pivot to help in times of distress, is absolutely amazing. I'm in awe of his leadership and the hard workers and minds in that company.
Thanks to Deborah Sweeney,  MyCorporation.com!
---
#8- Dan Langhofer, President of Paperwise
I call him, the disruptor of disruption, because his innovative disruption is helping other companies disrupt their own markets. Paperwise has built an easy-to-use, low-code process automation platform that allows anyone to design workflows to run their business. You don't need a degree in software architecture and data science to create and connect your software, workflows, collaboration and communication, alerts, business rules, and create data visualizations.This opens up disruptive capabilities to all entrepreneurial companies to design the exact kind of business and processes they want without being stuck in the limitations of existing software. So the kind of market-disrupting innovation that was once only available to really large companies like Amazon and NetFlix are now available to anyone with the next big idea for their market.
Thanks to Matthew Turner, Boston Turner Group!
---
#9- Gary V
Gary V is the main man to follow for any budding disrupters; he tells it like it is and then some. Most people who can't do, teach, but carry is both the preacher and the processor. He does exactly what he advises and you can see through hustle and bustle your dreams can be achieved. He polarizes opinion; but ask yourself: What would you rather be? A millionaire love/hated by many or a regular guy liked by most. Dare to dream, follow Gary to help realise yours, even if its on a smaller scale, life is there to be had and money is there to be made. If you don't do it someone else will. Make that someone you!
Thanks to Dustin Vann, Trusy Social!
---
#10- Russell Brand
For a regular businessman like myself, Russell Brand is both an inspiration and a mentor that I look up to. From comedian to actor, he has excelled himself further with his philanthropy work on his youtube channel – under the skin. Never afraid himself openly and eloquently, often in words us mere mortals have to Google! He is making change and ensures his voice his heard across the globe. Never afraid to challenge the status quo, he rallies against the corporate machine and various governments. Standing up for yourself is admirable, standing up for the masses is heroic. A modern-day hero with a facetious angle to boot. There is only one Russel Brand.
Thanks to Mike Falahee, Marygrove Awning Co.!
---
#11- Two disruptors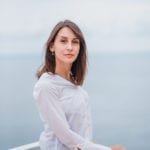 Being a woman under 30 running my business, I'm always looking for new sources of inspiration to get motivated and enthusiastic. My favorite disruptor in the social media industry is my compatriot Chiara Ferragni, she gave credibility to the digital entrepreneur role and evolved her figure from an influencer to become a true leader with a powerful voice. Salvatore Palella is another great disruptor that I admire. With his company, Helbiz, he truly disrupted the sharing economy's transportation niche with a fun and scalable solution.
Thanks to Giada Filippetti Della Rocca, One Percent!
---
#12- Amazon
I can't think of another company in my 35 years that has completely changed an industry, and continued to dominate that industry quite like Amazon has. Most disruptors have copycats that eventually rival the original, but no company has even come close to the sheer size and volume of online orders that Amazon has every single day.
Thanks to Ryan Anderson, Bead the Change!
---
Who are some of your favorite disruptors and why? Tell us in the comments below. Don't forget to join our #IamCEO Community.