Networking in business helps you reach more clients and more importantly, share your lessons and successes with other business owners. This ultimately improves your confidence and reminds you to push harder regardless of the obstacles you face in business. Of course, they're various other ways you can benefit from networking.
Here's how entrepreneurs and business owners leverage networking in their businesses.
#1- Begin conversations
I recently took this lesson away from one of our client partners. Dr. John Timmerman, VP Operations, Mercy Health, who reached out to me recently from his LinkedIn network. He started by reaching out to 15 people in his network or individuals he wanted to get to know on a weekly basis — just to simply begin a conversation. When John and I connected it provided an opportunity to share ideas and struggles one leader to another. In that intersection, I connected him to another leader who might have some insights on opportunities John was trying to solve. 1 + 1 = 3! I then began to implement this same strategy. I will call an individual if I am already connected to them or begin a LinkedIn conversation with them. I have collected an entire bouquet of ideas. Mostly, I have gained so much support and love from talking to other leaders. We are all in this together.
Thanks to Kimberly Rath, Talent Plus, Inc.!
---
#2- Build fruitful relationships with teledermatologists
We attend all the major dermatology tradeshow events in hopes of growing our doctor referral program, but our biggest breakthroughs with networking have come via social media. On LinkedIn, we've been following targeted hashtags – #teledermatology, for example. Any time a dermatologist posts using this hashtag, we like their content, follow their account, and send them a direct message. This protocol has helped us build fruitful relationships with teledermatologists, especially during COVID-19. With doctors offices closing and tradeshows being cancelled, we've looked to social media as our main networking channel. Additionally, LinkedIn and Facebook groups have been advantageous in helping us build new relationships. Whether those groups are focused on a profession, subject matter, or shared interested, social media allows us to engage in meaningful conversations from wherever, whenever. Now, instead of having to invest in that one tradeshow or network event and hoping it's a hit, we can network in dozens – if not hundreds – of active groups online.
Thanks to Dan Moyer, RA Fischer Co.!
---
#3- Attract new clients
Networking is incredibly important for my business. In fact, the #1 strategy for attracting new clients is to ask current clients for referrals. This should be done in a very strategic way. We typically wait until after the first two to three months of results, but this is by far the highest converting channel and it works without fail. There is no better endorsement than a current happy customer. Especially during times of crisis when business owners look critically at every dollar spent, it's much easier to get a new client when you already have a mutual point of contact putting in the good word for you. Setting up internal sales teams, doing cold outreach, etc. is a waste of time in my opinion and not a path I'd suggest going down, particularly as an agency owner.
Thanks to Kevin Miller, The Word Counter!
---
#4- Two perspectives
I have never held the term networking in strong regard as it feels to me like a basis of making connections for the purpose of how someone can help us. At least that is how this practice was initially introduced to me in my early years. Everyone talked about networking as a way to build a career. I was instructed to go out and meet people. With the understanding that eventually you might find a lead. However, there was rarely a discussion on how this practice would lead to results. Over the years, I found that the mere connection with another person didn't often led to much more than a basic exchange of information. Once I began to look at my network as a series of relationships Everything changed. I shifted my focus on learning as much as I could about an individual, in order to determine what value I could provide to a potential relationship. I also looked for common personality traits that would give me a deeper understanding to determine if this relationship could last. With that simple shift in perspective, my connections grew abundantly and authentically. I learned to expect nothing in return except the satisfaction of helping someone else. As a result, I continue to be blessed with an abundant return on investment as a by-product of that mindset.
Thanks to Sean Giovanni, The Record Shop Recording Studio!
---
#5- Build a business
If you are looking at building a board portfolio – this skill is essential because most board appointments don't make it to recruiters. They usually happen through networks. Networking is something that makes most people uncomfortable. I am an extreme extravert, and it's been part of my job for 20 years, and I still find it awkward at times. To this day as I'm standing out the front I still have to hype myself up before I walk in because even as an extrovert and someone who is naturally people orientated, it's still hard – but it is so essential to building a business.
Thanks to Ineke McMahon, Path to Promotion!
---
#6- Ask for help
I leverage networking in my business by asking for help from the people and organizations I'm connected to in my industry. Whenever I have an idea for a new service to offer or need suggestions for unique ways to market my online courses, I do crowdsourcing or I reach out directly to people in my business and Facebook blogger groups who I know can give me great suggestions. People can't help you if they don't know you need assistance or support, so never shy away from asking for constructive help. You and your business will be better for it.
Thanks to Allan Borch, Dotcom Dollar!
---
#7- Create friends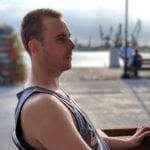 As someone who owns a primarily "Blog style" business model, it can be hard to network with people within the same industry, especially if you are many miles away and competing for similar spaces on the internet. What I do is I build relationships through cold email outreach. I send emails out to potential prospects that I want to link to me and try to build relationships with those who do respond initially. What I do is speak to them the way you would speak to your grandmother (politely). If it a prospect that I would like to get involved with in the future I do something nice for them such as send their link to my social channels, mention them in social posts, or even in my blog. I then casually notify them in conversation and compliment them on their post you shared and how it helped your audience solve a specific problem. From that point onward you get transformed from a stranger on the internet to someone who is somewhat of a friend or ally in their corner. Even if they do not want a collaboration of some kind you will still have them in your back pocket and they will remember you as that kind and courteous person who shared their blog posts. If you have this mentality, not only will you end up getting what you want more often than not, but you will also have potential friends in what can be a friendless business.
Thanks to Derek L, Floating Authority!
---
#8- Engage my audience
As an SEO consultant, I continuously utilise social media as a networking tool to engage my audience and build my brand. Specifically, engaging with notable members of the industry when they post on social media allows me to increase my impressions but also potentially getting a reply and furthering the conversation. This is extremely helpful towards brand building and it makes people interested in what I have to say.
Thanks to Itamar Blauer
---
#9- Personal growth
As an Entrepreneur, I've come to understand that networking is key not only for the growth of the business but for the personal growth obtained as a professional interacting with other like-minded professionals. Networking is not a one time kill in a manner of hunting down a person or business of interest with whom you'd like to do business with. It is a relationship-building process, much like a farming process. That is the only way to leverage networking. When I understood that a relationship with other entrepreneurs and persons of interests is more important than handing out a business card and asking for business, it changed my perspective and game-plan completely. I leverage the relationship of strategic people that can lead me to connect with potential business, or lead me to connect with a service provider that will enhance my business. It is not all about getting new business, it is also about making your business the best it could be. Networking has to be seen as relationship building, and one must go into a relationship with the mindset of what I can bring to the table, and how I can help the person in front of me and how I can help their business. Rather than asking for business, ask how can I refer you business? What's the best type of referral for you? No one will reject you when you genuinely ask them how you can help them grow their business. They'll be appreciative and would want to do something in return. Even if they don't, you'll be able to connect and create a relationship which you could leverage in the future by asking for a specific introduction if it comes across. Nonetheless, the best way to leverage networking, is to build long term relationships.
Thanks to Henry Calix, Weedsies.com!
---
#10- Gain experience and potential referrals
I go to around 3-4 networking meetings a month, however I stay away from nutritional run/focused meetings, as they are either my competitors or know what they are doing already, so I won't pick up any new clients or business there. Indeed if there were any non-nutritional people there, they would be surrounded by a horde of people pitching them their services. The chances for sales are greatly reduced. Instead I go to marketing, sales and leadership meetups and masterminds. Not only do I gain valuable experience I get a lot of prospects and potential referrals as I am often the only nutritional expert in the room.
Thanks to Elliot Reimers, Rave Reviews!
---
#11- Two ways
Create valuable information that industry experts want to share. One of the main ways we've grown PMP is by HR experts sharing our articles and podcasts to their communities. 2. Reciprocate by sharing other industry experts' knowledge. One of the main ways we do this is by hosting HR gurus and professionals on our podcast. Use your platform as a way for others to get their name out there, and the gesture will be reciprocated.
Thanks to Tim Reitsma, People Managing People!
---
#12- Gain visibility and establish a brand
Networking can be one of the most cost-effective ways to gain visibility and establish your brand. And fortunately, there are a number of ways to make connections and leverage them. One tactic is to utilize HARO to be quoted on high-traffic sites. Once your tips are published, reach out about supplying a guest post. Doing so will establish your company as an expert in their field, which will instill trust with customers and make your business a clear choice.
Thanks to Chris Gadek, AdQuick!
---
#13- Being consistent and enthusiastic
Consistency and enthusiasm are the keys to network your business successfully. The most problematic thing I see amateur business owners do is they only network for a specific period, feel accomplished afterward, then stop completely. That's not how networking works. I recommend business owners to network at least one hour a week—either by nurturing current people in their network or discovering potential new contacts. The power of connections in the business world can be the main difference between going out of the market or successfully growing your business.
Thanks to Jared Ebrahimoff, Lavari Jewelers!
---
#14- Three ways
My most successful networking effort has been presenting to groups of related professionals. I'm a lawyer so, for me, that's accountant, financial advisors, and realtors. I like presenting over typical networking events like lunches and mixers for three reasons. First, it's never awkward. Lunches and mixers can be really painful depending on the participants. Even with a cold crowd that's not asking many questions, there's never any awkward silence because I can just keep talking. Second, presenting is way more efficient that one-on-one networking. I'd much rather present to a room of 15 or 20 people than take each one out to lunch individually. Third, and most importantly, it builds trust. The audience spends an hour hearing me demonstrate my expertise; they see my personality. This trust leads to referrals. The phone always starts ringing after presentations.
Thanks to Robert Theofanis, Theo Estate Planning!
---
#15- Add credibility and transparency
Networking may sound old fashioned in these high tech days but it still works. Most of my business comes from networking. My rule is that you should network in person during the business day when not social distancing and do it online after hours. People do business with people they know, like and trust so you have to get out there to build your reputation online and off. Prospective customers and jobs can come from anyone anywhere anytime so you should always be on your best behavior & make a great lasting impression. Be nice to everyone & make friends before you need them, you never know who is in or will be in a position to help! You cannot be everywhere all the time so choose high impact activities that work for you and play to your strengths. For networking I think people need to be on LinkedIn so that they can be found. It adds credibility and transparency when you know the people you are meeting or working with know people in common. LinkedIn has become more than an online resume or rolodex, it is the foundation for building trusted relationships in the digital economy. You do not need to blog or be on all social media platforms but make sure you are active on the ones where you are. If your customers do not use Facebook, Twitter or Instagram to find you then you do not need to make them a priority. For many professional service businesses
like mine, LinkedIn matters the most.
Thanks to Paige Arnof-Fenn, Mavens & Moguls!
---
#16- Reach out
I leverage networking in my business by having myself and my team; full-time and part-time employees, interns and virtual assistants reaching out to other investors and influencers (individuals and companies alike) within the startup world. We connect with them in several ways such as sending them emails (or to their representatives) and messages on LinkedIn. We utilize our already formed industry connections to introduce us to people they know and that we would like to connect with. And we also search the internet for ways to find and contact these influential people and companies either on their websites or companies websites or through other startup accelerators' websites. Basically, my diverse team and I team up to communicate with the big names in the startup world in order to increase our network and exposure within the industry. We believe it is a numbers game and the more people we reach out to the higher the chances are to further these conversations and collaborate with them.
Thanks to Brian Mac Mahon, Expert DOJO!
---
#17- Build my personal brand
I have been building my professional network on social media channels as well through referrals since a long ago. I started sharing my knowledge and expertise with the people who needed my help in the network. Slowly I started getting good business from these people who I know for a long time. Networking helps us connect with the people having some problems, which we can solve when the time comes. Most of my business comes from my professional's networks only. It takes a lot of time to build the connections and add the credibility first, then you see the benefits of networking as it grows with time. Today i have 50K+ connections on my social media and I get great organic reach of my posts, content I publish, the articles I write and that is how people know my knowledge and experience. Start building your network now if you want to build your personal brand.
Thanks to Richa Pathak, SEM Updates!
---
How do you leverage networking in your business? Tell us in the comments below. Don't forget to join our #IamCEO Community.