Being an entrepreneur is the American Dream and it is something that men and women, young and old hope to achieve. For some people that hope to live this dream, they need help or support. Entrepreneurs like Malla Haridat of Mom and Daughters Inc., understand this and the award winning strategist created an organization to help mothers and daughters learn the principles of starting their own business.
Hearpreneur had the opportunity to speak with her about her business, how she got started and why young women should be entrepreneurs.
What is your background?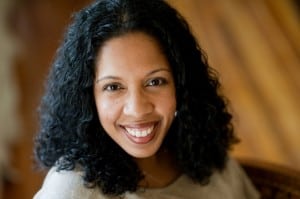 Over the past ten years, I have lead entrepreneurship training courses and programs.  I started with a program at Columbia Business School and have traveled across the US working with clients developing customized programs, conferences and workshops training people how to start a business in a fun and interactive method.  My business has been featured in the New York Time, BlackEnterprise.com, Inc, and Fox Small Business Center.
I was recently awarded as finalist in the Count Me In Urban Rebound program 2013 designed to support  women business owners reach the 250k mark and was a former first place winner in the  New York City Women's Commission Entrepreneurship contest.
What is Mom & Daughters Inc.? 
Moms & Daughters Inc is an experience that gathers girls and their Mothers (or Mom figures) together to learn how to think like an entrepreneur.   Having an amazing resume is just not enough to succeed in college and in life.  You need to know how to "sell" the skills that you have in competitive environments and demonstrate how you'll add value.  Mom & Daughters Inc helps in this process by getting young women comfortable with learning how to take risks, think strategically, and brand their successes.
Why did you start your business?
I noticed a trend in my former business.  Over the years of working with hundreds of students through youth entrepreneurship programs, I realized that the girls were leaving my programs educated but not empowered to act on their newfound skills.   Many of the male students would take risks with this information whereas the girls were more hesitant to step outside of their comfort zone  – even though they shared similar dreams during the brainstorming sessions. 
Let me illustrate it with a story.  A few years ago, I ran a conference program where two students – a male and female – placed first and won the business plan competition.   After the program, the male student cold called his local radio station, reached out directly to people on Twitter, and created massive buzz about winning the award and asking for help growing his business.   He knew little about formally written press releases or solicitation letters but was willing to take a risk and ideally identify people who would partner with him.  As a result of his efforts, he was featured by a local cable television show and gained support of the local community who donated space for his business.
The female student shared her success with her family and a few friends.  But did not outreach to anyone outside of her immediate circle to engage them and get their help to take her business to the next level.
I had watched this story repeat itself too many times.  And I wanted to do something to eliminate this trend and empower young women and their mothers/caretakers to think differently for the next generation.
What skills do you teach to the young women? Why? 
We teach moms and daughters how to identify their areas of opportunity, and their personal traits and habits that can keep them from achieving the success they have always dreamed of.  They develop skills like personal branding, risk taking, thinking outside of the box, long term planning, negotiating and networking.  And it's all learned in an environment that is designed to be fun, interactive, and inspirational!
Our goal is to incorporate in our programs the traits that often hold women back from greater amounts of success—even when she has the knowledgebase, education, and skillset of her male counterparts.
Why is it important for young women to learn about entrepreneurship? 
We need to empower our young women how to think like entrepreneurs so that they will have successful futures – regardless of their career path.
Let me share a recent example of a former student who learned how to convey  her personal brand:  She attended my workshop several times and was awarded a scholarship alongside other talented and smart students.  When it was time to give her acceptance speech, she veered in a different direction from the nine other students who read their laundry list of thank yous.   She opted to tell a story.  A story about where she had started prior to the program and what a difference the program made in her life.  And she kept it under the three minute time limit!  Can I say not a dry eye in the house?  She received a standing applause.  And more importantly, several prominent attendees spoke to her afterwards with an interest to meet her over coffee and see how they could help her during college.
That's the difference that thinking like an entrepreneur makes.  You enter a competitive situation and are able to stand out positively from the crowd because you have begun mastering how to present your brand to others.
And there are also tons of statistics that demonstrate that young women need this information.
20 percent of adult women (22 million people) say they never negotiate, even when she it is appropriate or necessary.
When the average woman hears the word "risk", she thinks of a negative outcome, not a strategic opportunity with the potential for positive outcome.

2010 Census statistics show that while women own 50% of all privately held companies, 75% of female business owners make less than $50,000 annually.
Whether or not a young woman starts a business when they leave the experience is irrelevant.  They will have developed skills that will empower them to rise to the top of their game professionally
What is your vision for the organization? Any exciting news? 
There is an incredible opportunity for this work.  The goal is to start by impacting women and girls in the Tri-State area and build a partnership team both nationally and internationally.  I am clear that I cannot do this alone and am looking for organizations to partner with and also young women entrepreneurs who want to share their inspirational stories on the blog.
We have also been getting some PR buzz recently including an interview on the Women's Connection show, a television show designed to empower women, and many other business-related news outlets.
Finally, I'm excited that we will be hosting four workshops this year for free in New York City.  I encourage women to spread the word and invite their friends and family members who might be interested in gaining access to this valuable info.  I have also been speaking with are also working with groups who want custom workshops so you can reach out for more information.