What separates entrepreneurs from everyone else is that when there is an issue or a problem, entrepreneurs come up with a solution. For SipSnap founders Michelle Ivankovic and Sativa Turner that was the case. SipSnap is a spill-proof kid's drinking lid that fits any cup.
As their
Kickstarter campaign
comes to a close at the end of the month, the two entrepreneurs have surpassed their goal of $28,000 and raised $77,322 for their new product. Michelle and Sativa spoke with Hearpreneur about their invention, Kickstarter and future plans for their business.
What is SipSnap?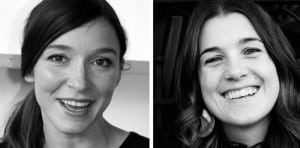 SipSnap is a universal drinking lid that fits any cup, anytime, anywhere. It's made from food safe silicone, which is BPA and Phthalate free, and dishwasher safe – and there's two versions! The SipSnap TOT has a chew resistant spout for toddlers to drink from and makes every cup in your life a potential sippy cup. The SipSnap KID is a universal lid that can fit any size straw for bigger kids (it's also great for adults!).
Why did you decide to do crowd-funding through Kickstarter? 
We needed to raise a substantial amount of
money
in order to continue our project. Doing this on our own or through investors would have taken years. Crowdfunding would allow us to quickly get our idea out there, test the markets receptivity, and raise the funds we needed without having to give up control of our product. We specifically chose Kickstarter as we believe them to be front and center in the crowdfunding world and because we had such positive experiences working with them in the past.
Why did you start your business? 
We both love our kids and families and being designers, we naturally spend a lot of time thinking about products that could make our families lives better. When we came up with the idea for SipSnap we knew it was time to get serious about teaming up and sharing our ideas with the world.
What is the next step for SipSnap?
Now that we have the funding we need it is time to get those SipSnaps made. We will be working with our manufacturing and shipping partners to make sure the first round of SipSnaps are perfect and on time.
Where do you see SipSnap in the next 5 years? 
We hope to see SipSnaps widely available in stores across the nation. We see SipSnaps as a great way to simplify the lives of caregivers so they can spend more time enjoying their kid's company.