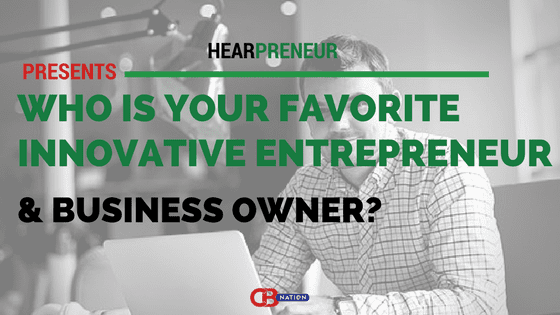 Innovation is a driver of many businesses globally. In the competitive business world, you have to innovate ideas on how your business should run. Different entrepreneurs take on diverse approaches to implement innovative ideas in their businesses and some emerge to be successful. This gains then recognition as innovative and inspires other entrepreneurs to be innovative as well.
We asked entrepreneurs about their favorite innovative entrepreneur and business owner and here's what they had to say.
#1-Andrew Rose
Andrew Rose does it all. He has helped bring success to car insurance companies like Progressive, Countrywide, Elephant, and now to Admiral Group's latest high growth startup, Compare.com. It is a pleasure working with this guy. He's so full of energy and makes it a point to get to know everyone that works here. He stays highly involved with each department and is open with everyone about company financials and growth. He makes it fun to work here by creating exciting events like office Olympics, 10k fun runs, optional volunteer time off, thirsty Thursday social times every Thursday, and a lively annual awards party. We all know that Andrew will continue to help this business grow within such a competitive landscape as the insurance industry.
Thanks to Kiryako Sharikas, Compare.com!
---
#2- Jeff Hoffman
My favorite innovative entrepreneur and mentor is Jeff Hoffman, founder of Priceline among a slew of other raging successes! Despite his Titan-sized accomplishment, he is very down to earth and relatable. It is almost accepted as fact that once you've achieved a certain level of success, you must be a total dick! Only the calloused people willing to climb over everyone at any costs will succeed in the world of business, right? Wrong! Jeff Hoffman cuts through all that BS. He's sets the standard for what entrepreneurs should strive to achieve. He is proof that you can still be hugely successful and still be a nice guy. He sealed his spot in my mind as a role model when he recounted a story of when someone asked him, "How do I get my employees to think I care about them?" To which he responded, "Have you ever considered actually caring about them?"
Thanks to Steve Scheetz, Moonbow Baby!
---
#3- Elon Musk
Well, simply because the man's a legend. He taught himself all about space rockets and engineering. When he was asked, how he did it, his simple reply was that he read books! He runs several companies which is a testimony to the mad amount of work that he puts in daily. Apart from that, he is committed to doing everything to make the impossible, possible; from sending humans to Mars, to making space travel affordable, he runs projects which has been considered impossible for all so long. His company Tesla, has made and marketed electric cars so well, despite a huge number of people claiming that electric cars would fail. The man is an icon and inspiration to many. It just goes to show how a normal college grad, can suddenly turn around and make such a huge impact on the world. And what's more, Elon Musk isn't done yet. He has plans to make VTOL aircrafts and is carrying out work for making a high-speed underground transportation system. And apart from all that, he has been silently carrying out work on his HyperLoop project!
Thanks to Adhip Ray, WinSavvy!
---
#4-  Oprah Winfrey
I'm always inspired by Oprah Winfrey. From her talk show to Weight Watchers and even a rumored run for Presidency, she transcends all business models.. She has created an incredible brand for herself and is true to her voice. Oprah also doesn't claim to be the only one making her brand successful. On countless occasions she has introduced her marketing team and makes it known that all of the hard work put into her brand is truly a team effort and that she is not the only master behind her success. It's an incredibly admirable quality that I believe all business owners should adopt into their daily practices.
Thanks to Deborah Sweeney, MyCorporation.com!
---
#5- Bill Simmons
One my favorite innovators and entrepreneurs is Bill Simmons. He started out at ESPN, becoming the most popular sportswriter in the country. Since then, he's launched a hugely successful podcast, co-founded the documentary series 30for30, founded the culture site Grantland, and launched a television show on HBO. Today, he runs The Ringer – a website and podcast network that is constantly shaping how media companies interact with the culture. He's been a constant source of inspiration to me in how he innovates and hires new talent.
Thanks to Ben Camerota, MVP VISUALS!
---
#6- Whitney Wolfe
Being a woman in the male-dominated field of technology comes with a lot of responsibility, because you are constantly under pressure to "prove yourself" in ways that men simply are not. You never want to be the one that doesn't "show up" because that's just one more excuse for the nay sayers to doubt the value women bring to the table. That's why the entrepreneur I admire most is Whitney Wolfe, CEO of Bumble. Not only has she forged her own path in a challenging industry, she continues to do so in the face of adversity. In fact, she built a behemoth brand, and bravely did so using past negative experiences to inspire her way forward and combat the issue at the root of many women's insecurities. I both respect her journey as an entrepreneur and admire her as a champion for the empowerment of women.
Thanks to Sarah Tourville, Media Frenzy!
---
#7- Krystal Covington
My favorite innovative entrepreneur and business owner would have to be Krystal Covington from Women of Denver. Krystal took a side hustle idea, founded Women of Denver, with a few ideas on how to run it because of her Public Relations expertise working for Natural Grocers and turned it into a thriving, successful business. She helps women Be seen, Be heard, Be known. She also has the kindest heart. Last year when I was going through chemo while battling Colon Cancer she gave me a scholarship year for free so I didn't have to worry about losing my membership. She now runs WOD full time and is someone I greatly look up to. She has a tv series, a magazine, sponsors, a quarterly networking event, workshops, a mastermind and so much more! Who wouldn't have Krystal as their favorite if they knew her?!?
Thanks to Trisha Trixie
---
#8- Walt Disney
While starting out as merely a farm boy looking to become a cartoonist and animator, he ended up becoming the founder of one of the largest mass media empires in the world, The Walt Disney Company. Walt Disney, to me, is the epitome of what it means to be an innovator. He didn't just use innovation as a tool to grow his company, it was the crux of what the company brought to the world. Disney has always been about using creativity to inspire onto others even more creativity, and this has helped grow the entire entertainment industry as a whole. They always push the limits behind what is possible and that type of entrepreneurial mindset has led to some of the most iconic characters, movies, theme parks, and games in the world.
Thanks to Steve Wang
---
#9- Sam Walton
While Amazon and Alibaba are growing at alarming rates, they still have ways to go until they surpass Wal-Mart as the world's largest retailer. Sam Walton, the founder of Wal-Mart and Sam's Club, is the perfect example that "if there's a will, there's a way". Besides for his incredible story of turning a single franchise shop into the largest employer in the world, the man himself was truly remarkable. Even as one of the richest and most
powerful men in the business world, Walton never forgot his humble
beginnings. To me, he epitomized the importance of humility and effectively showed that hard work is everything. Walton also made sure to stick to his strong core of beliefs and never sacrificed his character for money. He described how he used to personally go to his warehouses and shipping facilities to speak with the people directly. He understood that bridging the gap between the multiple levels within the company was crucial to functioning as a single cohesive unit.
Thanks to Nate Masterson, Maple Holistics!
---
#10- Michael Dunn
My mentor, Michael Dunn, once told me, Life is short, do something that matters. From peeling carrots at his grandmother's restaurant when he was 7 years old, to being an undercover police officer selling kilos of narcotics to Mexican cartel members, Michael's journey sounds like an episode from tv series, Mad Men. He parlayed his law enforcement experience reading people and building trust to start an advertising agency that grew from 2 people and a folding table in his San Francisco apartment, to over a 100 person shop in 6 months. Here's practical advice he's shared with me:  The idea always wins – think beyond how to do it, think why you're doing it. Collect evidence about your business to learn the truth of how your clients perceive you. Have empathy – for your team and clients. How can you serve them better, how can you delight them. Think about how you make people feel, because emotions get stored better than information. Every company needs to consider themselves a media company. Make design an essential part of your business, because brilliant design can set you apart. And…in business, sometimes it's more important what you say no to than what you say yes to.
Thanks to Louis Camassa
---
#11- Richard Branson
Richard Branson is my favorite innovative entrepreneur. He has founded so many businesses in vastly different areas that it truly boggles my mind.
His mastery of marketing and how he has been able to get his messages and value propositions out to the public is also wildly impressive. Most of all though, I believe that the positive and productive relationships that he has with the team members who work at his businesses is the secret to his success. I believe that he has made the world a better place through
innovation and taking bold steps. Branson also speaks his mind and thinks
that a business leader should also be a leader in society and use their
talents for philanthropic reasons. I'd love to meet him some day and get
his insights into business and life.
Thanks to Steven Benson, Badger Maps!
---
Who is your favorite innovative entrepreneur and business owner? Tell us in the comments below. Don't forget to join our #IamCEO Community