Storytelling
27 Entrepreneurs Explain How They Came Up With Their Business Names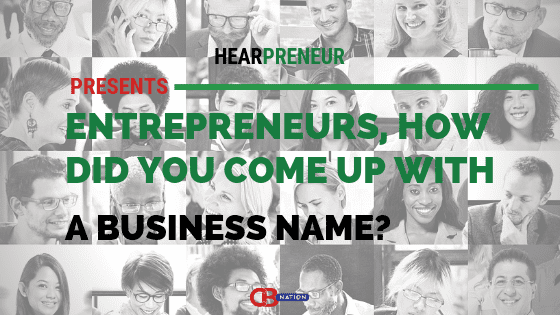 The idea of exactly what your business is going to usually come first. Secondly, most often, is giving a title to your idea. What exactly is going to be the name of your business? Some people turn to their childhood for inspiration or a beloved family pet. It could be a made up word you dream of one night and feel it has the right ring to it. Even still there are some people who study foreign words for the perfect meaning behind their chosen business. Whatever the inspiration or relation may be, the naming of your business is one of the most important parts of becoming a CEO. Having a brand behind a strong title can make all the difference in the world.
#1- Suggested by a friend
We're called Tao Digital, our goal is to provide the path to online success for businesses.  I was with a friend of mine for coffee who is very much into his mythology and all things thrilling in the world. I was describing what we were looking to achieve with the agency and he suggested I look up the word Tao. After a quick google it became clear that this was the name for our new agency. It encompasses everything we want to achieve in one word. Granted I have to explain it to most prospects but it really does help us stand out from the crowd.
Thanks to Matthew Tomkin, Tao Digital Marketing!
---
#2- A name that came to my mind
We came up with the idea to create football academies where football fans can directly invest in young players. As the solution runs on blockchain and is using cryptocurrencies we were thinking how to connect the dots (the most obvious is something with bitcoin). We had different ideas the worst was probably Bitfoot. That was this long shower session when the name came up to my mind 🙂 And it stayed – Football Bitcademy. Some people still say BitAcademy, or another crazy version was BritAcademy but hell, I'm not changing anymore!!
Thanks to Tomasz Krzystek, Bitcademy Football!
---
#3- Simply a description of what we do
Our business specialises in luxury African tours, which can take travellers across the continent. Therefore, we wanted a name that did exactly what it said on the tin. Africa Travel was established over 25 years ago, so there was no such thing as search engine optimisation back then. Back in the days of straight advertising, it was important to have a name that explained what your company specialised in so the audience would be drawn to it. However, we have found our name to be a valuable asset in the world of SEO; the name itself is a keyword that our customers search for, making it easy for us to rank in the search engine results.
Thanks to Chris Wain, Africa Travel!
---
#4- Considered a few things
Agency I started back in 2014 and still run, is named Neparno 10, which on Serbian language means Odd 10. When brainstorming about name, I was considering few things. First, we will do mainly SEO. Then, I'm starting agency with more then 10 years of experience in the field. And 3rd, my way of doing SEO is original and originality should be part of agency culture. In one moment, I got that number 10 is big deal in SEO, too, because there are 10 results on Google first page. So number 10 is covering 2 of 3 things I am considering. I needed just to include originality. And what is more original if we make number 10 odd number, at least in our name. Plus, we got something impossible there, and there is new idea for motto: We make impossible – possible.
Thanks to Aleksandar Ratkovic, Neparno 10!
---
#5- Family inspired
When I was younger, my family and I would always go on holiday to Italy in the summer time. My mum would undoubtedly end up buying beautifully-crafted leather bags from factory shops and markets. Years later, her passion for the Italians' impeccable leather craftsmanship stayed with me, and it was a large factor in my decision to create Maxwell Scott. Family is important to me and I knew I wanted the brand to reflect that. When naming the company, I chose to use the middle names of my brother and I as a way to honor my mother's involvement with the genesis of the business.
Thanks to William Forshaw, Maxwell-Scott!
---
#6- A dream about a show
While working on a musical about math – an item on my life bucket list-I needed a name for the producing organization. The Fringe Festival show included numbers 0-9 as puppets along with humans Prince Pi and Becca, my alter-ego who hates math. Dialogue and songs were spoken and sung by the two humans as well as the ten puppets who told their own story of their meaning in the world. I woke up from a dream one night speaking the name, NumbersAlive! which defined precisely what the show was about. After the show was over parents and teachers were so enthralled about the creative storytelling concept (Where were you when I was learning math?), they encouraged me to continue the concept and create a math learning program, known as NumbersAlive!.
Thanks to Rebecca Klemm, NumbersAlive!
---
#7- Combination of three things
My company name, Bear in Mind Strategies, LLC, is a combination of my name, a common phrase about consciousness, and my strategic approach to working with clients. Bear in Mind Strategies produces videos for businesses, institutions, nonprofits, and universities. I chose not to be as specific as to call it Bear in Mind Productions because I do so much more than just produce videos. I give my clients a new way to think about what they do and how to tell their story. If the URL for BearInMind,com had been available, I might have chosen that for my business name, though it sounds less business-like. So, Bear in Mind Strategies was it and both my company name and logo have worked well.
Thanks to Andrea Bear, Bear in Mind Strategies, LLC!
---
#8-  Represents the end of a long journey
When people hear the word "diamond," they think about perfection and beauty, or maybe love and all of the things that come with it. It's a representation of quality and longevity. A diamond is forever, as they say. But to us, a diamond represents the end of a long journey, from humble beginnings and through immense pressure. This journey is the culmination of unstoppable forces colliding under the toughest conditions. To us, the illusion of perfection that a diamond embodies isn't something we can ever attain. It's the light constantly dangling in front of us. Something we can always aspire to be. Diamond View is not a statement of perfection but rather, the thrill of the chase.
Thanks to  Jonathan Davila, Diamond View!
---
#9- Nickname given to our two cats
My company, Boosa Tech, sells power banks – portable phone chargers. So far, the business name has been really well received! People refer to their power banks as their Boosas. That's exactly what you want when you're branding a business That business name, though … I'd like to say that it's a play on the word boost – your phone needs a boost, right? Well, to be honest, it's a nickname we accidentally gave our two white Siamese Flame Point cats a few years ago. And it just sounded really cool to me. Remember, we're on the Internet right now, and the Internet is owned by cats.
Thanks to Chris Reimer, Boosa Tech!
---
#10- Inspired by the word Pella
The word Pella has been leveraged in history as a name for the capital of ancient Macedonia which was the birthplace of Alexander the Great, one of the largest manufacturers of windows and doors in the world, and is also translated as the marvel of god in the Hebrew language. When combined with the word data the goal was to provide the reader with insight into the vision of what the company DataPella would provide. DataPella focuses on helping customers open the passageway into leveraging the marvels of data to accomplish greatness.
Thanks to Paul Szyarto, Datapella!
---
#11- Four key words
My company is named MARQETED and is a marketing consulting and services company for small businesses in the B2B sector. When I was thinking of a name to launch my company and my brand, one of my friends had given me some very good advice. She had told me, "Try to avoid naming your company after yourself." Naturally, naming a company after yourself (ie: Thaddeus Andres Marketing or Marketing By Thaddeus) when you are a sole proprietor is a very simple and quick way to launch a brand. I agreed with her advice and as a result I began to think about what I wanted my company and brand to stand for and convey about my business. In the end, I arrived at MARQETED. MARQETED is comprised of four key words: 1. MARKET – "MAR" to market and convey action and the fact that MARQETED is a marketing services company that encompasses all aspects of digital marketing. 2. MARQUEE – "MARQ" symbolizing that working with MARQETED would elevate your brand and industry reputation to a new level and above your competition. 3. CONNECT – "QET" a phonetic and abbreviated version of the word "Connect" to represent my strong belief that marketing is about connection. If you do not connect with your audience in a strategic way, then you will not see results. 4. TED – "TED" this is the part of the company name that represents me. Ted is a nickname for my full name, Thaddeus. Adding TED to the end of MARQETED felt like a very natural way to complete the company name. As a result MARQETED was formed and it is pronounced the same as "MARKETED".
Thanks to Thaddeus Andres, MARQETED!
---
#12- A couple of reasons behind it
My company's name is Jade Solutions, LLC. I chose the name for a couple of reasons. The letters j-a-d-e-s represent the first letter of the names of children who are very dear to me (some are cousins, some are the children of longtime friends). I also like what the mineral (stone) jade represents ( protection, strength, truth, integrity). The company provides management  consulting services to small to mid-sized businesses, as well as government agencies – I wanted clients to know that the company's values include balance, perspective, integrity, stability, and practicality. As the company owner, integrity is my guiding principle in how we do business and who we do business with. When I began my search for website url jadesolutions wasn't available so I chose jadeitesolutions. The mineral we refer to jade in the in the West represents two stone nephrite and jadeite. Jadeite is the rarer of the two. The company logo was designed to include the various colors of jade. Fortitude. Integrity. Focus. Accountability.
Thanks to  Tina E. Patterson, Jade Solutions, LLC!
---
#13-  References my roots in climbing and spoke to the usage occasion for the line of instant coffee
Before I started my business I made my living as a professional rock climber (still do!). I've been a member of the North Face global athlete team for over 10 years. When I decided to jump into the world of coffee I wanted a name that both referenced my roots in climbing, as well as spoke to the usage occasion for the line of instant coffee we were launching. After all, it was on an expedition to the Bugaboos of British Columbia that I came up with concept of starting an instant coffee business! I landed on the name Alpine Start because its a term climbers use for waking up really early, traditionally before the sun rises. Seemed like the perfect name for a coffee company.
Thanks t0 Matt Segal, Alpine Start!
---
#14- Inspired by our address
EightSixtySouth is the rebrand of Post+Beam, an innovation and communication agency that opened over 10 years ago in New York. I had served as P+B's West Coast Director for 3 1/2 years, acquiring the company at the end of 2016. When the decision was made to rebrand during the acquisition, I called on my team to determine what our new identity was going to be going forward. As luck would have it, two months prior we had moved into the same building as P+B's first West Coast Office – The Cooper Building in DTLA at 860 S. Los Angeles St. This coincidence did not go unnoticed – and prompted us to change the name to EightSixtySouth, inspired of course, by our address. We were drawn toward the idea of going back to where you started, remembering why you began, and looking at how we're moving forward.
Thanks to Kelly Howard, EightSixtySouth!
---
#15-Encapsulate the goal of my business
My goal was to name my business based on an available .com domain name, which was a lot harder than I envisioned. I chose the Serene Solopreneur because it encapsulated the goal of my business — to provide education, encouragement and support to female business owners. After launching my company, I did a Google search and discovered that few people knew the word solopreneur and nobody was searching for it. In hindsight, I should have chosen a name that had more potential for organic search.
Thanks to Sue Allen Clayton, Serene Solopreneur!
---
#16- Translated name of a bird
It recently launched Conure Life – it was a long and expensive process to come with a name. I started with words that captured the essence of the product, tried their hindi, latin and greek words. Ran reports through a IP lawyer, they were all taken or didn't sound good. Then I looked at Apple and Amazon for inspiration and thought what is a bird that really captures the essence – it was a peacock or a parakeet. Peacock didn't sound as good but Conure another name for parakeet sounded good and passed the IP/trademark test.
Thanks to, Conure, LLC!
---
#17- Name as pronounced by my daughter
When my daughter was starting to speak, she was saying Teuko! every time she saw something cute, when the food was appetizing or when she succeeded in a task. When she started preschool, one evening she complained about the lunches I packed for her. That's when the idea of a super tool helping families who pack lunches daily like me was born. And because I wanted my daughter to be happy again with the lunches I packed for her, this was the first word that came to my mind when I decided to create my business and have a name for it. Teuko is now the lunchbox community that empowers families who pack lunches. Teuko means lunchbox inspiration, motivation and fun, all in one place! 🙂
Thanks to Jessica Gury, Teuko!
---
#18- Name represented our ideas
When we were naming our social enterprise, we wanted to zero in on our brand personality and target audience. We focused on what we were really passionate about — repurposing plastics pollution and empowering mothers by giving them a sustainable livelihood. Coming up with a name that best represented both of these ideas was a challenge, as it had to be an extension of our brand and voice and let our mantra ring through. We wanted something that could best involve and immerse our target audience in our experience. We generated a whole slew of possible names including new words and languages. Then we tested out the possibilities with friends and colleagues, checked the availability of the name, and allowed time to sleep on it, before deciding on something unique and memorable that would be easy to search for on google and gain traction – Mother Erth. Mother Erth has the core values essential to our fashion brand that zeroes in on our personality and our target audience and we feel it will be timeless and relevant for as long as our brand will be.
Thanks to Matthew McKay, Mother Erth!
---
#19- Defining my aim
I work with the LGBTQ and transgender community as an affirming therapist and it was important for me to instill in my clients that I want them to be their authentic selves. When I was deciding on a name for my mental health practice, I choose True You Southeast, because that name shows that I want people to be their true selves and I am open and affirming to the LGBTQ community. I wanted my clients to know that they have a voice in my office and in their therapy sessions and their voice will be heard.
Thanks to Katie Leikam, True You Southeast!
---
#20-Two reasons
Firstly it came from my love of music and feel good tunes, I listen to a playlist of fun, energetic and empowerment tracts while I make my products. This connection is fully enveloped into the business, as my product ranges are also named after smash hits and personal favourites – my own way of subtly imparting, my very eclectic and to some, bad taste in music on the world. Names such as Pink, Rich Girl, Miss Independent, Dancing in the Moonlight, Everything she wants and Domino. It also reflects the purpose of my business, I make 100% natural products for you and your home. It all started with a bar of natural traditional soap that was developed to treat my sons infantile eczema. He had not slept properly and constantly cried for most of his first two years of life. The medical route had us in cycles of one cream after another and steroid creams that were just too much for delicate newborn skin (In my opinion). The natural soap and subsequent products afforded him a much needed sweet escape from the irritation, pain and discomfort, and he has never looked back. To the outside world, it evokes ideas like taking a break from the pace of life, indulgence and a well earned relaxing experience.
Thanks to Sharon McCrea, Sweet Escape Products!
---
#21- Niche target and mission
I came up with the name of my business by first thinking about my niche target audience, meaning who this business/service is for. My business niche is "entrepreneurs" and "founders". My mission is to create freedom in entrepreneurs lives by living and working freely! I combined those 2 things to come up with "FOUNDER FREEDOM™"
Thanks to Rachel Whynot, FOUNDER FREEDOM™!
---
#22- Shortened words
Our company name was actually Escape The City Streets Mountain Bike Adventures. It was ridiculous for a bike tour company name, but as a college student – we did whatever we wanted. In 1995, had it not been for the internet and the task of shortening our company name to a web address, it would never had happened. We took the first and last words of the name – hence "Escape Adventures.
Thanks to Jared Fisher, Escape Adventures!
---
#23- Describe our mission
We arrived at the name Best Company because it perfectly describes our mission in multiple ways. First, we want to be able to connect consumers with the best company for their personal situation. Second, we want to be the best company to work with and the best company to work for. In the end, choosing Best Company was easy, because our intended target audience has always been those searching online for the best company and we just want to help in that search.
Thanks to Christian Jones, BestCompany.com!
---
#24- Homage to Japanese language and a famous baseball player
As a business founded in Japan who specializes in Japanese curry, Go! Go! Curry's name pays homage to both the language and a famous baseball player from the country, Hideki Matsui, whose jersey number was 55. In Japanese, go means five, therefore, Go Go is 55. We also use our 55 or Go Go process: 55 minutes for the curry to stew and 5.5 hours for it to mature before serving.
Thanks to Tomoko Omori, Go! Go! Curry!
---
#25-"'I understand' were the most comforting words after my loss"
I lost my husband Rob to depression in 2003, when he was just 42 years old. Suddenly a widow at 39, I didn't understand why this happened and felt alone as none of my friends had experienced the same devastating loss. My children, ages 5, 12, and 15 were forced to grapple with a horrific loss and live without the most important man in their life. Words like "crazy," "selfish" and explanations of him "killing" himself made the pain even worse and I wondered why people were defining him by the way he died, rather than how he lived? I knew I had to change the conversation. "I understand" were the most comforting words after my loss; it was healing to find that one person who knew what our loss felt like – that one person who didn't judge us or my husband for how he died. In 2014, I founded i understand as a nonprofit 501c3 and we encourage everyone to be that someone for a loved one experiencing loss. We funded the nation's first clinical nurse specialist, specializing in mental health in a traditional hospital setting. Through the nurse, we are changing the language, offering compassionate comfort to those after a crisis or a loss, and providing care packages with tools for healing. To date, we have distributed several hundred care packages and over 13,000 i understand tee shirts to show others we are stigma-free.
Thanks to Vonnie Woodrick, i understand!
---
#26- Inspired by a giant beanstalk
It was 2004 and my wife and I were in New York. It was about 1AM and the clouds were low. Very low, such that the skyscrapers around us rose into them.  We had been discussing quitting our jobs and starting a company of our own.  My wife was a web designer and I a search marketer and it seemed a good match. While walking and discussing what we were considering doing, we saw our inspiration.  Up the side of one of the skyscrapers rose a giant beanstalk. The cloud cover was so low and the beanstalk so large that it literally entered the clouds exactly as in the story. It was a perfect match for us.  The story of Jack climbing to the pot of gold after starting with just a couple beans resonated with both of us. A few days later we registered our company.
Thanks to Dave Davies, Beanstalk Internet Marketing!
---
#27- Homage to my grandmother and intention of empowering women
Bloom Bras pays homage to my grandmother who passed several things on including my love of travel, food and my larger chest. I lost her to breast cancer several years ago. When I set out to create Bloom Bras, it was always with the intention of empowering women no matter what shape, size or stage (including breast cancer survivors) of life, to feel good. I had lists of names that I had compiled and would constantly search domains for availability. Bloom Bras was a contender but not available. One night, just before launch, I was trying different variations and bloombras popped up as available. I grabbed my credit card thinking this was some sort of mistake. The next day, I got the confirmation email and called up my family to tell them the news. My aunt revealed that my great-grandmother, Bloom, used to sell corsets. Apparently, it was meant to be.
Thanks to Elyse Kaye, Bloom Bras!
---
How did you come up with your business name? Tell us in the comments below. Don't forget to join our #IamCEO Community